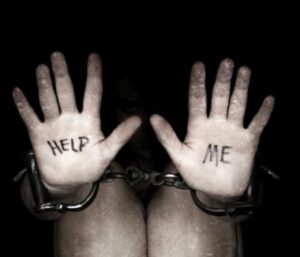 An African family living in New Jersey identified families in West Africa that were seeking to send their daughters to the United States for school. The 20 girls aged between the ages of 10 and 17 from Togo, Benin and Ghana were brought in to braid hair for up to 14 hours a day for no pay in Newark and East Orange saloons. The exploiters took the victims' passports and other documents and they were beaten and threatened if they did not return home immediately after work. They had effectively joined 35.8 million other modern day slaves world-wide.
With two children between them a Ugandan man sent for his girlfriend from Lira, Uganda to San Francisco for what was supposed to be a re-union and a consecrated marriage. Upon arrival he confiscated her documents and when her visa expired he became abusive and violent threatening her with deportation and legal charges if she did not do sexual favors to his clients. She was confined to his house never allowed to go out or to talk to anyone. She became a virtual sex slave.
These descriptions are an overview of how human trafficking takes place in the United States. In today's globalized society the problems of human trafficking are embedded in aspects of immigrants daily lives in ways that many may not be aware of – taking on new forms and presenting new challenges for recent immigrants.
Human trafficking affects every country in the world either as countries of origin, transit, destination or a combination. In fact human trafficking is the second largest criminal enterprise in the world earning more than $150 Billion each year. (Behind illegal drug trade). Between 14,500 and 17,500 people are trafficked within the United States each year. Of whom 78% are women and children. (UN, GIFT) estimate that another person joins the global human traffic jam every 30 seconds adding millions of victims to the jam annually.
The UN Office on Drugs and Crime (UNODC) defines human trafficking as "the recruitment, transport, transfer, harboring or receipt of a person by such means as the threat or use of force, coercion, abduction, fraud or deception for purpose of exploitation. Sexual exploitation is by far the most common identified form of human trafficking (79%) followed by forced labor (18%).
Victims of trafficking can be any age, gender or nationality. Immigrants are especially vulnerable to culprits of human trafficking. Poverty and lack of educational and economic opportunity in one's home country lead many women to voluntarily migrate and then involuntarily trafficked. Most forced labor affects people working at the margins of the formal economy with irregular employment or immigration status.
Trafficked men usually end up in service and agricultural industries. Women are dragged into domestic servitude, health industries and sometimes forced marriages. Young women are usually lured into traps by false promises of love, companionship, security, protection, good jobs and home or favorable immigration status. Once inside the trap the exploiters move into the next level of introducing the victim into the sex trade. They use extreme control by depriving the victim of basic needs, restricting movement and contact with family and friends, preventing attendance to religious services and hoarding identification documents. The victims are then forced into commercial sex or pornography business under threats of violence, deportation or law enforcement action against the "prostitute" and of course the exploiters keeps all the money. Unlike drugs she is sold and recycled over and over again. The traumatic psychological effects of the survivors are long lasting.
Trafficking culprits range from small-time solo operators, to loose networks of criminals, to highly sophisticated international criminal organizations. However most trafficking is carried out by people whose nationality is the same as that of the victim and usually a person known by the victim's family. They may even be close relatives and friends of the victim. Ironically a lot of the recruiters are females themselves.
Kenyans have an inclination from way back in 254 to be always reactive. We sit back and do nothing then react when things happen. Here in the diaspora we must adopt proactive stance. We cannot just bury our heads in the sand and say that this cannot happen to us. In fact it is already happening. In our own country this human scourge is so prevalent. Literally, children are sexually exploited along our beaches right before our very eyes and in the Arab world our own grown women are violently attacked and forced to work against their will when they find out that their contracts are flawed. The domestic and international laws against human trafficking that the Kenyan government has adopted have been lauded but according to UN Office of Drugs and Crime (UNODC) they have only been enforced half-heartedly due to corruption, lack of resources and prioritizing.
Globalization and the rise of internet and social media have also facilitated human trafficking. Traffickers use explicit sites to market, recruit and sexually exploit unsuspecting females. Staffing agencies websites are also used to recruit exploitable workers. It is not a secret that some young Kenyan women are implicitly being sexually exploited in the U.S. and that young Kenyan boys are already prowling the drug trade in many U.S. cities.
There are many telltale signs of a person being exploited such as uneasiness when the topic of law enforcement is mentioned, nervousness when questions about their occupation, background, immigration status or where they live come up, physical signs of neglect, malnutrition, sexual abuse, torture, disorientation, unable to communicate because it seems they are being watched or have been to numerous places in a short amount of time. In labor exploitation such as domestic servitude employees may not be allowed to speak for themselves and are restricted to their place of work with no days off.
Human trafficking is not caused by poverty or lack of legal status, it is caused by criminal human traffickers who take advantage of our lack of knowledge and use our vulnerability as factors for exploitation. Therefore we must educate ourselves and our children thoroughly and constantly about this growing criminal menace. We should know the labor laws of this country and where to report if they are violated. We must also be aware of all human trafficking and exploitation laws and what legal recourse to take if we notice something amiss. The tendency to sit back until something happens should have ended at JKA.
Remember that the average age a teen enters the sex trade in the U.S. is 12 to 14 years old. A boy may be lured into drug trade at age 10! And human predators are salivating and eyeing them. You must sacrifice to protect yourself and your family, first by continuously educating yourself, spending quality time with your family and mentoring new immigrants who want to listen. There are many legal and human rights organizations combating this menace to be listed here, but the first line of defense is you. Human trafficking is a business and these criminals are serious and so should you. If exploited don't just sit there. Tell someone.
There are safe harbor laws in some States meant to decriminalize criminal activities such as prostitution performed by minors under forced circumstances. There are also special visas for victims of human trafficking although they are hard to get. Help is always available nonetheless.
If you or someone you know is being exploited you can call:
National Human Trafficking Resource Center: Over 200 languages spoken.
24 hours a day & days a week.
1 (888) 373-7888
By Josef Kariuki-Diaspora Messenger contributor