Photos:Lady who sold Uhuru a bottle of Soda speaks of her 15 minutes of fame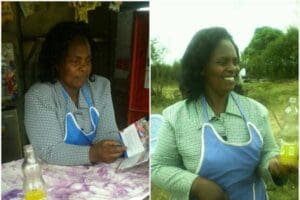 The woman who sold President Uhuru Kenyatta and Machakos Governor Alfred Mutua a bottle of soda in Matungulu on Wednesday has spoken of her 15 minutes of fame.
Victoria Mutheu, 48, said she is happy to have met the President and share a light moment with him.
The mother of three said Uhuru's visit to her kiosk was a surprise. She did not expect the President to be "such a down to earth man".
"I was surprised when he asked me to open a bottle of soda for him. It was a great pleasure for me because I have always imagined that the President cannot interact with people of a lower class," Mutheu said.
She said the President paid Sh1,000 for six bottles of soda and a packet of milk and never asked for change.
Mutheu said on that day, she made a Sh10,000 profit, unlike the Sh3,000 she makes everyday. Uhuru was her lucky charm, she says.
Mutheu said the President told the area MP Stephen Mule to ensure she is assisted where possible.
"The President was in a hurry and did not promise me any appointment but he directed Mule to see how I would be assisted," she said.
Mutheu said she is contented with the publicity her Kiosk received that day as it improved her sales.
"There are people who come from far just to see the kiosk where the President bought a soda, which has improved my sales," she said.
Mutheu, who also runs a barber shop and a salon, praised the government's efforts to ensure rural areas get power connection. She said before she got the connection to electricity, she only made Sh500 profit from the barber shop and salon.
Mutheu now makes Sh3,000 in a day. She has since bought a refrigerator to stock the soda in her kiosk.
"I had earlier employed two assistants at the salon, but now I have two more in the salon and two at the barber shop and kiosk," Mutheu said.
– See more at: http://www.the-star.co.ke/news/lady-who-sold-uhuru-bottle-soda-speaks-her-15-minutes-fame#sthash.JeIVn4qW.dpuf