Photos:Ruto at Buhari swearing-in, praises vote conduct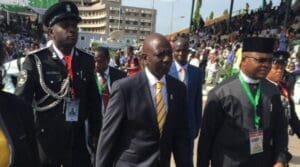 ABUJA, Nigeria, May 29 – Deputy President William Ruto joined more than 40 Presidents and Heads of Government during the inauguration of Nigerian President Muhammadu Buhari in Abuja, Nigeria.
The colourful inauguration was also graced by US Secretary of State John Kerry and several African Presidents.
Ruto who represented President Uhuru Kenyatta described the ceremony as remarkable in Nigerian history.
He congratulated President Buhari and outgoing President Goodluck Jonathan for peaceful handover of power.
"What we are witnessing here is true democracy at work. This is how people install democracy in their nation," the Deputy President said.
Ruto applauded the people of Nigeria for their civility and peaceful electioneering process.
Buhari said he would serve every Nigerian irrespective of their political affiliation. "I belong to everybody and not anybody."
The President congratulated voters and his predecessor Jonathan for accepting defeat and agreeing to a peaceful handover.
President Buhari said his government will fight terrorism especially Boko Haram by setting up a Government command centre at nerve centre of the terror group. He will also deal with piracy, cyber crime.
His Government will also rein on unscrupulous traders who were hoarding oil which has seen long queues in petrol stations for months.
"Nigerians will not regret and they will not be hopeless in the new Government," he said.
Buhari who is the first Opposition leader to win an election over a sitting president took the oath of office in the presence of former president Goodluck Jonathan.
State dignitaries included South African President Jacob Zuma, Zimbabwe's Robert Mugabe, the current head of the west African bloc ECOWAS President John Dramani Mahama of Ghana, and French Foreign Minister Laurent Fabius. Idris Deby of Chad and Mahamadou Issoufou of Niger were also present.
The leaders were later hosted to a state luncheon after the ceremony.
-capitalfm.co.ke