Visa problems: Native Kenyan with adopted American family reunites with biological parents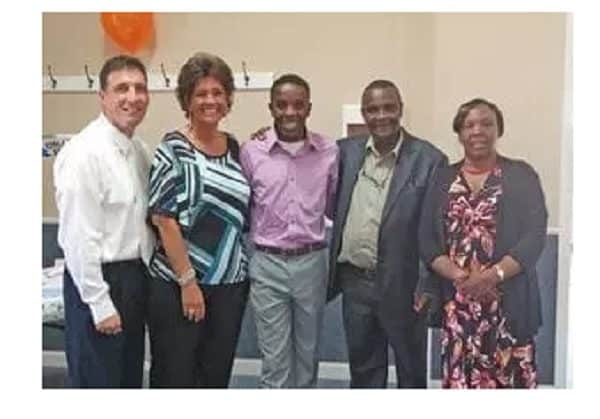 Alex Maina graduated from the University of Kentucky on Saturday with a degree in geography, which was fitting, as he was surrounded by family from different corners of the globe.
Maina boasts two families — one in Africa and one right down the road in Jessamine County. He was born in Kenya in 1992.
"We lived on a coffee farm and a tea farm," Maina said. " … It's really like a farming community."
Maina, his four sisters and his mother remained in Kenya for several years while his father studied to become a pastor in the United States. But eventually, it was decided that the family would join him.
On Sept. 11, 2001, the Maina family — excluding one sister who stayed in Kenya — was in the air traveling to its new home in Ohio. The plane was forced to land in Canada because of the terrorist attacks, Maina said.
But Maina eventually made it to Dayton, where he lived for about two years before his father transferred to Asbury Theological Seminary in Wilmore.
"We lived in housing for foreign Asbury students and their families," Maina said. "It was a lot of fun."
While in Wilmore, Maina became involved in the youth program at Crosswoods Baptist Church.
There, youth leaders Brad and Andrea Freeman took a special interest in Maina and his youngest sister. Brad Freeman also serves as the Property Valuation Administrator of Jessamine County.
"They would come to our house all the time and just hang out and get to know us more," Maina said. "So we got really close with them."
When Maina was in the sixth grade, his parents returned to Kenya so that they could be present for his grandmother's passing, he said. He and his sister stayed with the Freemans while they were away.
"A couple of months into it … (the government) told them that they weren't going to be able to return due to visa problems," Maina said. "It gets kind of complicated sometimes, so they left and couldn't come back."
Upon receiving the news, the Freemans decided to watch over Maina and his sister full-time, he said. The pair were unable to have children of their own.
"We were a couple that could not have kids," Brad Freeman said. "God definitely had a plan."
But after just two years, the Maina's visas were set to expire. They could choose to live with a blood relative or be deported.
Maina and his sister opted to move to Dallas, where one of their sisters lived and studied. Because she was a student, her visa was still OK.
"She decided to watch us instead of having us go back home where there was really nothing for us," Maina said. "We'd be starting from scratch again."
Although his sisters were thriving in Texas, Maina said he "didn't care for it at the time." He returned to Nicholasville to visit the Freemans every summer.
During one visit following his freshman year of high school, Maina finally asked the Freemans if he could stay.
"They took some time to think about it and pray over it, and they decided that they were going to try to get full custody of me," Maina said.
Soon, the Freemans had full rights to Maina — something they never predicted would happen.
"We grew to love him, but when that time came when we were to take care of him, that stepped into a whole new ballgame," Brad Freeman said. "But we love him and we're very glad to do it."
Maina finished out high school at East Jessamine, where he was active as a student-athlete. Freeman praised the school system for helping to shape Maina's language skills.
"When (Maina) first came over here, he could not speak English nor understand English," Brad Freeman said. " … The school systems here just thoroughly were a huge help."
Throughout high school, Maina kept in touch with his parents back home, he said.
"We used to have phone cards and stuff, but then it started getting expensive, so I didn't call them as much. But now with apps like WhatsApp you can text and call whenever for free," Maina said. " … We all live in different states, but we all still communicate. We try."
As he finished up school, Maina was accepted to several in-state universities. Ultimately, he decided on UK — just a short drive from the Freemans.
"We're really close," Maina said. "They still live in Jessamine County, and I go over there and visit when I get a chance."
Maina said the Freemans played a big role in helping him earn a higher education degree.
"They've helped a lot through everything — applying, school work," Maina said. "They've been there through every little bit … They just want to see the best out of me."
But Maina has his Kenyan family to thank for the opportunity to begin learning in the first place, he said.
"I know my dad is excited, because that was his whole goal for bringing us here," Maina said of his graduation.
Maina was thrilled when he discovered that his biological parents would be able to fly in for the commencement ceremony, he said. They hadn't visited the U.S. since he was in the eighth grade.
"It was a really big deal because they haven't been here in a long time," Maina said. "They really wanted to see me graduate."
For the first time ever, Maina's sisters and biological parents stood side by side with the Freemans and their extended family Saturday at Crosswoods Baptist, before heading into Lexington for Maina's graduation ceremony.
"I'm really excited," Maina said. "It's just kind of hard to comprehend that it's actually happening."
Watching Maina reunite with his parents and interacting as one big family was emotional for everyone, Brad Freeman said.
"Seeing everybody was phenomenal. Alex has said this is the best weekend of his life," Brad Freeman said. " … It was such a joyous occasion for all of us. Everybody was beaming, grinning, laughing, hugging. It was a great, great time."
Looking forward, Maina will complete one more course at UK over the summer, as well as an internship with the Fayette County PVA office, he said.
"I've moved a lot, so I've seen other things out there," Maina said. "But I like Lexington … It's beautiful."
Maina has also applied for U.S. citizenship, although he'll always hold Kenya dear, he said. He hopes to visit this December for the first time since he left at 8 years old.
"I love it here; I like both places," Maina said. "But it's home back there."
Although his future is uncertain, Maina has already made proud parents out of the Freemans.
"Seeing him grow has been spectacular. He's got a great head on his shoulders and he's very strong in God, in his faith," Brad Freeman said. "We're so proud to see him evolve from the little boy growing into the fine young man that he is now."
Source-centralkynews.com
Visa problems: Native Kenyan with adopted American family reunites with biological parents