Yego shatters Kenyan record, Rudisha limps off in Ostrava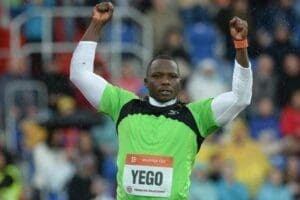 Javelin sensation Julius Yego produced a stunning performance to stun a field that had Olympic champion Keshorn Walcott and World champion Vítezslav Vesely to set a new Kenya national record at the Golden Spike meeting in Ostrava.
Yego's outstanding throw of 86.88m handed him his first major victory on the IAAF World Challenge Circuit on Tuesday evening as he shattered the national record for the sixth consecutive time.
It's was on an evening of mixed fortunes for Kenyan athletes as Olympic champion and world 800m record-holder David Rudisha withdrew at the 200m mark of his 600m race with an injury.
Kenya's sprints prodigy Carvin Nkanata raced against World champion and record-holder Usain Bolt for the first time in 200m, while World 1,500m champion Asbel Kiprop lost to European indoor champion Marcin Lewandowski in the 1,000m race.
Yego, the Commonwealth and Africa champion, was languishing down in ninth place after two rounds and needed a good throw in the third round to stay in the competition. But he did more than merely survive; he thrived off the pressure for a throw that erased his previous record of 85.40 archived at the 2013 world Championships in Moscow where he finished fourth.
Diamond Race winner Thomas Rohler put together a consistent series but couldn't catch the Kenyan, throwing a season's best of 85.36m.
Yego's mentor Tero Pitkamaki from Finland was third with 83.96m, while Vesely and Walcott finished sixth and seventh respectively.
"The weather wasn't very good to us, but I'm really happy that I produced such a good result," said Yego. "It's an honour to compete in front of the world record-holder, Jan Zelezny. He is my role model.
Yego, who is also the All Africa Games champion, had opened his season in Doha Diamond League with season's best of 81.98 to finish sixth. He has expressed his desire to hit 88m this season as he prepares for the world Championships.
Rudisha, who was competing in his third race after winning at the Sydney Track Classic in 1:45.01 on March 14 and Melbourne Classic in 1:44.94 on March 21 in Australia, made it only around the first bend of the 600m before pulling up injured, clutching at the front of his thigh.
"It's very unfortunate that I pulled my muscle just after 100m," Rudisha said afterwards. "But it's not a very serious injury."
Adam Kszczot cashed on Rudisha's misfortunes to catch up with Mark English just before the line to win in 1:16.02, establishing a meeting record by default as it was the first time the event had been contested in Ostrava. Lewandowski won the 1000m in 2:17.25, beating Kiprop who ran 2:17.38 to second as Olympics 800m bronze medallist, Timothy Kitum, rounded the podium in 2:17.62.
Nkanata, who went into the meeting boasting of world lead 20.14, faced Bolt, who was appearing on track for the second time amidst heavy rains and cold conditions.
Bolt had a noticeable lead at half way and continued to edge ahead of Isiah Young down the homestretch, clocking a season's best of 20.13 to win by more than two metres.
Nkanata would settle fifth in 20.97. "Today wasn't my greatest race. But it was cool to compete against one of the best to ever do it," said Nkanata.
Ethiopia's Olympics silver medallist, Dejen Gebremeskel topped the men 5000m race in 13:23.72 after a lung bursting sprint in the homestretch with 2013 World Cross champion, Japheth Korir (13:29.01) sliding down to fifth after holding on to the leaders all the way to the bell.
Selah Jepleting was the top placed Kenyan in the women 1500m with a performance of 4:09.74 landing her sixth in a race won by Ukraine's Anna Mishchenko in 4:07.09.
-nation.co.ke