My ancestor was a Turkana, says US presidential candidate Ben Carson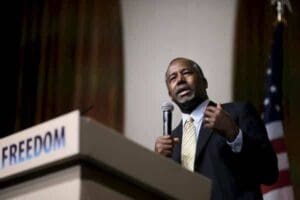 Republican US presidential candidate Ben Carson has "clarified perceptions" about himself saying his ancestor was of the Turkana tribe.
"Some people think I don't know how horrible slavery was because I said the (President Barack Obama's) Affordable Health Care Act was the worst thing since slavery," he said in a July 2 Daily Post video.
"There is nothing that even slightly compares to slavery in this country. I said 'since slavery'," he clarified.
Carson noted that two of his ancestors, a brother and sister, were sold as children to different slave owners
"The pain and the heartache associated with that era… There is nothing that compares to it,' he said.
"When people say Carson is comparing them, they are simply trying to create a wedge."
Carson, a renowned neurosurgeon with no experience in the cutthroat world of Washington politics, is riding a surprising wave of support among conservatives that has placed him near the top of contenders for the Republican presidential nominee in 2016.
The soft-spoken 63-year-old, an African-American who only officially became a Republican last year, has found an opening in the wide-open race in which 13 candidates are running for the White House.
His resume of having performed 15,000 surgical operations is the most unusual of anyone in the field.
In polls, Carson regularly outperforms most of his fellow candidates, who often have much bigger media profiles, much more political experience and in many cases have track records as governors or senators.
While the spotlight has been on opponents like former Floridagovernor Jeb Bush and Florida Senator Marco Rubio, Carson has been quietly building a grassroots following.
Carson won the straw poll at the Western Conservative Summit in Denver this weekend for the second year in a row.
His rise appears to be a reflection of deep dissatisfaction with traditional politicians in the Republican field, according to interviews with supporters and conservative activists.
Conservatives feel their elected leaders in Washington have been unable to come up with policies to grow the economy, reduce debt and cut the size of government.
Much of Carson's appeal centers on his lack of connection to Washington and his off-the-cuff speaking style: He eschews prepared speeches in favor of thoughts he jots down on index cards to which he may or may not refer.
His supporters are not troubled by his lack of political experience and indeed welcome the fact that he is new to the public stage.
His support is particularly strong among Christian conservatives, who like the fact that his half-dozen books and speeches are infused with discussions about his faith.
Carson told a crowd in Sioux Center, Iowa, last week that he didn't really want to run for president, but there were so many people clamoring for him to get into the race that he felt the call.
"I started praying about it, asking God for guidance, and I finally concluded that 'Lord, as long as you open the doors I'll walk through them. And if you shut the doors, I'll gladly sit down.' Well, he has continually opened the doors," he said.
– the-star.co.ke