EXCLUSIVE: WHAT PRESIDENT OBAMA ATE ON FRIDAY NIGHT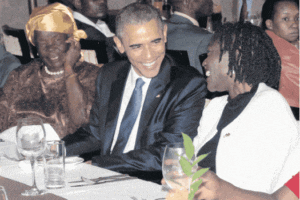 US President Barack Obama was served with Luo traditional dishes during his dinner with members of his extended family on Friday night.
The US leader met his family members for dinner moments after arrival in Nairobi on Friday night. Among the notable guest who dined with Obama was his grandmother Mama Sarah Obama and sister Auma Obama.
According to US President's uncle, Saidi Obama who attended the event, they were served aliya, osuga, dek, apoth, mitoo and ngege among other delicacies.
Aliya is dried meat while osuga, dek, apoth and mitoo are luo traditional vegetables.Ngege is dried tilapia fish.
"The meeting lasted a few hours. I am very happy to see my brothers' son once again. We were treated to a host of traditional food especially Luo foods," Saidi told the Daily Nation.
Addressing the press at State House, President Obama said his reunion with his relatives was "wonderful."
"It was a time for me to catch up with some of the relatives that I did not even know existed. Some of the explanations about the relationship were very lengthy," said President Obama.
FAMILY TIES
During the dinner which was organized with the help of the US Embassy, his sister Dr Auma helped introduce some of the relatives who flew to Nairobi on Friday led by Mama Sarah.
The US leader said that he would have wished to come to Kenya more often but his movement was restricted because of security and responsibilities as the President of the US.
"I did not want to come to Kenya so fast in my presidency because we did not want to appear to be playing favourite," he said.
The fact that he was a leader of a government and had to relate with his Kenyan counterpart on that capacity also complicated his chances to meet his extended family as much as he would have wanted, President Obama added.
"I was actually begging them ( the family) for forgiveness from the saying that I would have loved to have more freedom to reconnect with them," Obama said.
His uncle said that the US President used the meeting to strengthen the family ties and embraced them as part of his life.
"We were enjoying the buffet before we were joined by the US President who later addressed us," he said.
-nairobinews.co.ke