William Ruto spending stolen money in harambees-Raila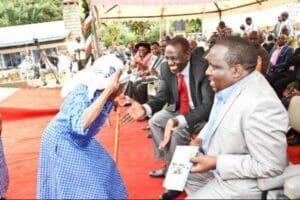 CORD leader Raila Odinga has called for an independent audit of Deputy President William Ruto's spending.
Raila sensationally claimed that the DP was spending stolen money in harambees.
Addressing wananchi in Kisumu town on Saturday, Raila said there is need for a probe into the millions of shillings Ruto has been dishing out in harambees.
Raila said the DP earns a salary less than Sh2 million per month but was spending more than Sh50 million monthly on the fundraisers.
"The Jubilee government is marred by massive corruption and Ruto leads in it. Ruto has been dishing out stolen public funds in harambees and this must be probed," Raila said in Dholuo.
Raila pointed out that the DP has been contributing about Sh5 million per fundraiser he presides over.
"Ruto earns below Sh2 million, which is less than the Prime Minister's salary in the previous government, but is dishing out millions of shillings in the name of harambees," he said.
He demanded that the government engage in development "instead of robbing wananchi and dishing out the cash to them in harambees".
The former PM also questioned the Sh25 billion National Youth Service budget, up from Sh1 billion, in the last financial year.
"They say the NYS is helping the youth, but why did they allocate a meagre Sh300 million to the Youth Enterprise Fund and have Sh25 billion for the NYS?"
He said that only Sh800 million and Sh500 million was allocated for the Uwezo and Women's Enterprise Fund respectively.
Raila concluded that the whopping Sh25 billion NYS allocation is "prone to theft".
– the-star.co.ke