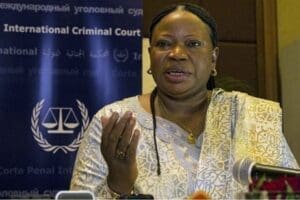 The African Union has been criticised for being hypocritical regarding the charges facing Sudan President Omar al-Bashir at the International Criminal Court.
In a statement to the United Nations Security Council, ICC Prosecutor Fatou Bensouda said the AU recognised the court's mandate to end bloodletting in Darfur in 2009 and it should therefore support efforts being made to bring those responsible to book.
"The role of the ICC in efforts to end the atrocities committed in Darfur and to hold those most responsible accountable is crucial and has a well-known history. Indeed, it is a role equally well recognized by the African Union at the genesis of the exercise of the Court's jurisdiction vis-à-vis Darfur, Sudan," she said.
According to the prosecutor, the AU had on October 29, 2009 endorsed a report and recommendations of the African Union High-Level Panel on Darfur, which was led by the former President of South Africa Thabo Mbeki.
The report had recommended for domestic investigations and prosecution of crimes committed in Darfur and reforms of the country's criminal justice system.
The ICC judges were required to evaluate whether measures put in place met the requirements of Article 17 of the Rome Statute and come up with the final decision on the matter. Article 17 of the Rome Statute issues guidelines on admissibility of cases at the court.
The situation in Darfur was referred to the Hague-based court by the UNSC in 2005, and five warrant of arrest have been issued against Mr Bashir since 2009.
Despite the warrants, Mr Bashir has evaded arrest as he has since travelled to ICC member states including Kenya, Nigeria and South Africa with AU leaders seen to protect him against arrest.
His latest trip to South Africa where he attended the AU summit two weeks ago turned dramatic after the country's High Court ordered that he should remain in the country until a decision is made on whether he should be arrested and handed over to the ICC.
He somehow managed to travel back to Sudan, an action that dealt a blow to ICC's Office of the Prosecutor.
Ms Bensouda has however insisted that contrary to opinion that his departure proved the court's inefficiency, the warrants are still effectual even as she called on other countries to emulate South African courts.
"Mr Bashir's recent rapid departure from South Africa proves that the warrants of arrest against him are as valid as they were when issued; that they remain in full force and effect, and that my Office is committed to ensure they are executed," she said.
She added that it is prudent for State Parties to plan ahead for the arrest of individuals wanted by the ICC in an efficient manner.
-nation.co.ke