REVEALED: FACES OF SUSPECTED ISIS AGENTS RECRUITING YOUTHS IN KENYA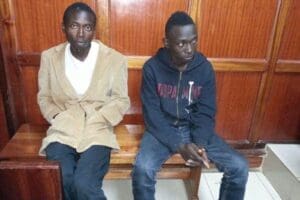 Two Ugandans said to be connected to a syndicate that is recruiting Kenyan youth to join Syria's terrorism group ISIS will be detained for 30 more days as police finalise on investigations.
Lukwiya Malcom and Emmanuel Oneka were arrested on July 1 at a hideout in Kabete, Nairobi, after allegedly sneaking into the country following the killing of a top Muslim cleric Sheikh Hassan Kirya in Uganda.
TRAINED ASSASSINS
The suspects are believed to be trained assassins involved in the killing of  other prominent people, police said in an affidavit presented in court on Thursday.
Police said an analysis of their phone call data revealed that they have been in constant communication with two known recruiters hiding in Tanzanian and Sudan.
"The suspects are connected with a syndicate that is recruiting youth in Uganda, Kenya and Tanzania who then go to Syria to join Isis. They are connected with one Sebit, a Ugandan who is in Juba, South Sudan, a known recruiter who has been in constant contact with them," ATPU's Sergeant Ezekiel Luley told the court.
He said the suspect are also connected to one Ali " who is in Bukoba, Tanzania, also a known ISIS agent."
"A suspect Ssenabulia Rajab an Alliance Democratic Front fighter has been arrested in connection with the killing of the Sheikh and by the records of their phone call data it is noted that they have been in constant communication," the ATPU officer says in the affidavit.
ISIS, acronym for Islamic State of Iraq and Syria, is a militant group fighting for the establishment of an Islamic state across the two countries. It is also said to sponsor militant groups across Libya and Tunisia.
HEAVY SECURITY
A heavy security detail accompanied Malcom, 20, and Oneka, 24, when they were  taken before the Nairobi chief magistrate Daniel Ogembo on Thursday .
"The first suspect just arrived from Uganda to hide in Kenya in a rented  house at Lower Kabete fearing arrest after his accomplice was arrested," the affidavit stated.
The court heard that they are a "security risk" and a threat to the public owing to the fact that they are connected to ISIS recruiters.
Mr Luley's affidavit stated further that Oneka's mother is a Kenyan now living in Lebanon, and that both suspects are believed to be involved with the rebel group Alliance Democratic Front of Uganda which has claimed responsibility for the killings of prominent personalities in the country.
"There is an ongoing investigation in Uganda in connection to the killing of Sheikh Hassan," Mr Luley said.
The officer asked the court to treat the suspects as "dangerous to the security of the state" owing to the fact that "the two are trained in arms to carry out assassinations as is happening in Uganda."
EXTENSIVE INVESTIGATIONS
He said ATP intends to carry out extensive investigations stretching into Uganda,  Tanzania and South Sudan in order to arrest the suspects accomplices  who have been "aiding the two suspects."
The suspects who talked to journalists said they were "shocked" at the allegations being levelled against them.
-nairobinews.co.ke