Uhuru voted Africa's President of the Year for outstanding leadership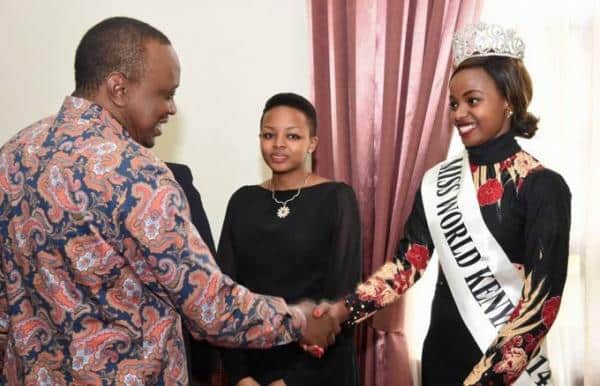 President Uhuru Kenyatta has been voted Africa's President of the year 2014/2015 for his outstanding leadership. The Head of State was picked for the prestigious Africa Education and Leadership Awards for his ability to build consensus locally and abroad, efforts to change policies for the better and supervise solutions that address Kenya's pressing issues.
Thousands of university students from across hundreds of institutions of higher learning in the continent also recognised President Kenyatta for initiating progressive economic programmes aimed at uplifting the lives of Kenyans.
The students, who are members of the All-Africa Students Union (AASU), presented President Kenyatta with the award which, among other things, celebrates  "outstanding leadership and educational excellence".
AASU is based in Accra, Ghana.
AASU student leaders drawn from 12 local universities presented the award to the President at State House, Nairobi. They were accompanied by Education Cabinet Secretary Jacob Kaimenyi , PS Belio Kipsang and a team from the Kenya Private Sector Alliance.
President Paul Kagame of Rwanda is a previous recipient of the award.
The students were led by their  AASU, East African representative, Mr Lone Felix of Kenyatta University.
The President concurred with the students over the need for more engagement between themselves and the government, saying this would prevent them from resorting to violence to express their concerns.
"You should engage the ministry (of Education) in a more constructive manner without going to the streets and throwing stones", the President told the student leaders who also requested the Head of State for more funding from the Higher Education Loans Board.
The President instructed Prof Kaimenyi and the Head of the Public Service Joseph Kinyua to explore ways in which the students can be funded to hold the next AASU summit in Nairobi later in the year.
The President told the students to keep their ''dreams alive'', adding that the country is blessed with many resources and nothing should stop Kenya from becoming a prosperous nation.
He said there was need to establish more incubation centres where students can nurture their skills and develop their innovative ideas.
President Kenyatta said he was excited by incubation centres where young people are developing products and exploring economic opportunities.
Before presenting the President with the AASU award, Lone said the incubation centres will transform the students from ''job seekers to job creators''.
Uhuru voted Africa's President of the Year for outstanding leadership