DO YOU KNOW THAT YOU ARE SUPPOSE TO BE PAID IF YOUR FLIGHT IS DELAYED IN EUROPE?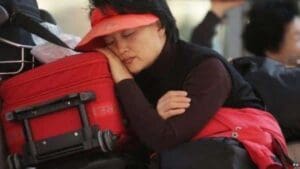 Delayed airline passengers are potentially missing out on millions of pounds of compensation, according to an investigation by Which?.
The consumer group found that between June 2014 and May 2015, 37 million passenger journeys to or from the UK were delayed by 15 minutes or more.
About 900,000 people could be eligible for compensation, but only around 38% of them ever claim, Which? found.
Passengers delayed for over three hours are entitled to up to 600 euros (£422).
Those protected by the Denied Boarding Regulation have to be flying with an EU-based airline or flying from an EU airport.
More than 9,000 flights are delayed for three hours or more each year, the group said, with an average of 97 passengers on each flight.
Which? director of campaigns Alex Neill told BBC 5 live: "We want people to assert their rights and hold their airline to account for those delays and claim the compensation that they are owed."
'No support'
Which? surveyed more than 7,000 of its members to find out more about their experience of flying from a UK airport.
Only four in 10 people (38%) said they claimed compensation following a delay.
Half of those delayed said they received no support or information about the delay from the airline.
Travel expert Simon Calder said the rules on compensation were "very, very complicated", with the process of claiming not always being straight forward. He also said airlines generally did "everything to fight it if they believe there's a chance they're not responsible".
Asked why so few claim, he told BBC Breakfast: "It's partly because people don't know. The airlines aren't very good at telling you your rights and I think lots of people simply give up."
He added that if a passenger thinks they are owed compensation and the airline won't "play ball", they can go to a lawyer or claims company, but they will typically charge a third of any compensation given.
Passengers travelling within the EU who are delayed for more than three hours could be entitled to up to 400 euro (£282) in compensation, which rises up to 600 euro (£422) if the journey is over 2,170 miles.
But delays caused by "extraordinary circumstances" are not eligible for compensation under EU regulations.
The consumer group's calculations are based on Civil Aviation Authority data.
-bbc.com