Self-proclaimed god Jehovah Wanyonyi is dead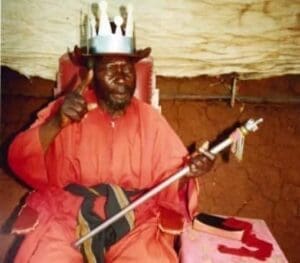 Though the family of the 98-year-old insists that the father of more than 95 and husband to many is still alive, local administrators say Mr Wanyonyi died on July 18.
The leaders say Wanyonyi died as he was being taken to the hospital in Kitale after falling "very sick".
"The family came to me for a burial permit after they claimed that Jehova Wanyonyi succumbed to illness on his way to Cherangany Nursing Home in Kitale town," Kipsomba Chief Daniel Busienei told The Standard.
Mr Busienei said the family came to him after the hospital demanded a burial permit before releasing the body to them.
"I told my assistant chief to issue them with a permit to allow the deceased family to lay him to rest," said Busienei.
Assistant Chief Paul Bett confirmed that he indeed gave the family the burial permit on July 19, a day after Jehova Wanyonyi reportedly died.
"He died on July 18 on his way to the hospital and his son came for the permit the following day," said Mr Bett.
Two weeks ago, The Standard team was repulsed from Wanyonyi's home in Chemororoch village in Soy constituency by family members who insisted that their father and "god" was still alive.
The visit to the compound was occasioned by rumours that the self-proclaimed god had died.
Some of the family members, including some of the 70 wives and children, became violent and forcefully ejected the journalists claiming that they had no business in the compound and that their god, "mungu mwenye enzi" was safe.
At first, there was speculation that Jehovah had been hospitalised in Cherangany before being transferred to Moi Teaching and Referral hospital (MTRH) in Eldoret.
But the mystery deepened when The Standard failed to find his name on the list of patients at MTRH.
The controversy surrounding the death of Jehova Wanyonyi, who led the Lost Isralites of Kenya (the name of his ministry), which was active on the border of Uasin Gishu and Kakamega counties, has been on for three weeks with kinsmen and locals differing in opinion.
Reports of his death have spread across the country, but the family's spokesperson, Eliab Masinde, refuted the fall of their deity despite yesterday's confirmation by the local chief.
Mr Masinde, who doubles up as a shrine caretaker at the compound in Chemororoch village, over the weekend said Jehovah was alive, only that he was unwell in an undisclosed hospital in Nairobi where his two sons are taking care of him.
"He was suffering from back complications for a while but was taken to hospital by his sons in Nairobi, a god does not die and even if so, we would have gotten a report from his children in Nairobi," said a defiant Masinde.
The shrine caretaker said neighbours of Jehovah Wanyonyi, who saw him being whisked to hospital, began spreading rumours that he was dead but that was not the truth.
But a Chemororoch resident who sought anonymity for fear of Jehovah's family and followers' wrath, said that the god must have died and challenged the sect members and family to disclose where he was being treated.
"Jehovah was ill for a long time from a spinal injury and was even on a wheelchair before he disappeared.
He was old and what we know is that the family is planning to install a successor in secrecy," explained the man who works as a cobbler in the area.
The cobbler added that Jehovah has another family and even followers in neighbouring Uganda and it was likely his kinsmen had taken his body there for burial.
Since his disappearance, several followers, who refer to him as the "living god" have been making regular visits to pitch camp at his home, which is the main shrine, to pray for their god's recovery.
-standardmedia.co.ke