MP fresh call to slash counties to 15 after SRC wage bill warning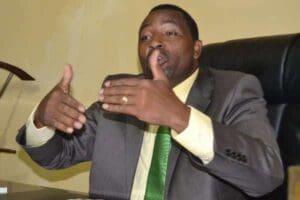 An MP wants his Bill for the reduction of counties from 47 to 15 given priority when the National Assembly resumes from recess on September 28.
Mwingi Central MP Joe Mutambu referred back to the Bill following the SRC's warning that the 50 to 60 per cent teachers' pay hike will ruin the economy.
The SRC said the court-ordered salary increase, over which teachers are on strike, would raise the wage bill from 51 to 61 per cent of the budget.
"We must ensure the numbers of counties and MCAs are reduced, and that of commissioners lowered to three because we are wasting a lot of money on salaries," Mutambu said.
The MP, who presented the Bill to Parliament in February, had said reducing the number of counties would prevent an economic crisis.
He and his Gatanga counterpart Humphrey Njuguna, who also offered solutions to the wage bill issue, spoke separately at Parliament on Thursday.
Njuguna said the number of MPs must be reduced and the Senate scrapped.
The MP, who said the National Assembly must take the SRC warning seriously, noted that too many MPs hinder effective debate.
"We only need 210 MPs for constructive debate. It is almost impossible for all the 349 MPs to speak," he said.
He added; "The Senate should be scrapped off completely. It has duplicated roles being undertaken by MPs and MCAs are perfoming the oversight role."
Cabinet secretaries should be appointed from the pool of elected MPs, Njuguna also said.
He further wants an inclusive referendum, which he said will entail the dissolution of the Okoa Kenya and Pesa Mashinani initiatives.
The MP said the constitution is "too ambiguous and expensive" to effect, and that the mandates of several commissions are similar.
"We must face the elephant in the room. A referendum is inevitable, and the sooner we conduct one the better for this country," he said.
Several MPs have drafted Bills to effect the constitutional changes.
– the-star.co.ke