UN staffer linked to drugs ship found dead in Mombasa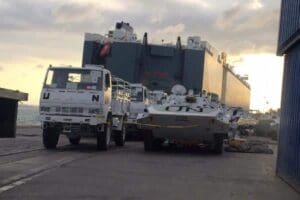 An UN officer attached to a drugs control unit was found dead in Mombasa a week before a cargo vessel was seized, and drugs and weapons recovered.
Australian Shamus Mangan, of the United Nations Office on Drugs and Crime, was found dead in his room at a five-star hotel on September 5, when he was to leave after checking in the day before.
Kisauni OCPD Richard Ngatia confirmed the death of the officer based at UN Gigiri, who had bled, but declined to give more information.
A detective attached to the unit, who did not want to be named, told the Star Mangan had written a full report on the Singapore-registered MV Hoegh Transporter.
"He was killed over the vessel docked at the Port," the source said, adding that no one was allowed to issue a report as the matter is sensitive.
UN officials say Mangan, who died at 41, left behind a Kenyan widow and was buried at the Coast.
Another source told the Star on phone a series of meetings have been held since the vessel docked last Thursday, and a high-profile search conducted for several days.
He said security chiefs at the Coast will be briefed following several discussions on the vessel.
Regional police commandant Francis Wanjohi said an official report will be issued in a meeting today, and all queries answered by security chiefs.
Police spokesman Charles Owino said the report will be released after investigations are completed; the vessel is still being guarded by inter-agency detectives.
"This is a serious matter. We have concrete answers from officers on the ground; the report will be out soon," he said.
A report on drugs, suspected to be cocaine, that were found in the ship will also be issued; samples were taken to the government chemist for analysis.
The Star obtained exclusive pictures of dismantled weapons that detectives, including US Drug Enforcement Administration agents, found hidden inside the tyres of vehicles in the ship.
They included the latest models of general purpose machine guns used by special forces and well-trained sniper personnel.
The vessel was carrying vehicles that included 257 of the UN, that were bound for Kenya, Uganda, the DRC and South Sudan.
Security chiefs have circulated pictures of individuals suspected to smuggle drugs and weapons into the country; they include several who have been charged locally.
– the-star.co.ke