Hilarious Video:Donald Trump compared to African Presidents on the Daily Show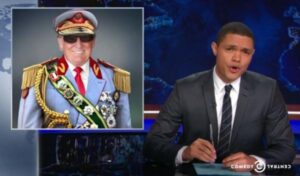 Jon Stewart's replacement on the Daily Show, South African Trevor Noah is doing a good job so far.
Last week, he had a skit comparing Donald Trump to an African President. He looked at his traits and put them side by side with the likes of Idd Amin, Mugabe, Zuma and Gadaffi.
– nairobiwire.com