I do not play in the same league as Raila; my league is higher – Duale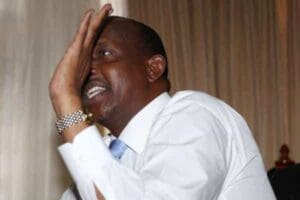 Cord leader Raila Odinga lacks the "locus standi" to demand a direct response from the President, Aden Duale has said, asserting his authority to speak.
On Wednesday, Raila said he only needed clarity on the state of affairs from President Uhuru Kenyatta, not the National Assembly Majority leader.
Saying he has the constitutional mandate to speak for Jubilee, Duale accused Raila of trying to undermine the office of the Leader of Majority, which he said is established under Article 108 of the constitution.
"I am the leader of government business in the House and second in command from the Speaker. I do not play in the same league as Raila; my league is higher," he said.
"Losers of presidential polls, whether number two or nine, have no locus standi to engage the winner. Raila must know this is not the Duale he sacked in 2007."
Duale added that Jubilee leaders are "busy serving Kenyans" and do not have time to respond to Cord's "political rhetoric".
"There is no time for Uhuru and DP William Ruto to engage Raila; they are busy people. The personal political engagement the Opposition leader is asking for is impossible," he said.
Duale said he will engage the Opposition leader "occasionally, when I am not busy and have time" on matters of national interest.
"When I am not very busy, I will respond to you as the leader of the ruling majority," he said, adding his other role is ensuring Kenya's interests are protected, when Parliament goes overboard.
The MP said the three arms of government are "obviously' corrupt but that the Jubilee administration "is still fighting".
"The President has a say in legislation because Parliament does not have absolute power to make law," he said.
Duale further poked Raila asking him to tell Kenyans where else, "apart from the ODM constitution", he draws the legitimacy and authority to demand engagement with the President.
He asked the Opposition leader to book an appointment through the State House Comptroller, not "rant at public rallies" in order to meet Uhuru.
Raila should use National Assembly Minority leader Francis Nyenze or Senate's Moses Wetang'ula to articulate issues he wants addressed in Parliament, rather than engage in perpetual "cry-baby tactics", he further said.
In his Wednesday address following the receipt of 1.4 million signatures for the Okoa Kenya referendum campaign, Raila asked Duale to stop responding to him saying they were not at the same level.
He said; "Duale na wenzake wanapiga makelele ilhali kule bungeni hawawezi kulipa bili za maji, stima na vitu vingine [sic]."
This translates to; "Duale and other MPs are making noise yet they cannot pay water, electricity and other bills at Parliament."
Raila further demanded that the President stop using 'junior" politicians to answer him when he raises concerns about corruption in government.
– the-star.co.ke