Keter resubmits motion to impeach Waiguru over NYS fraud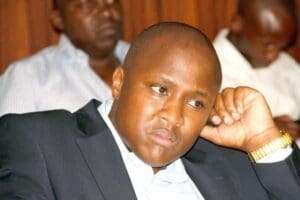 Nandi Hills MP Alfred Keter has resubmitted his motion to impeach Devolution CS Anne Waiguru over the Sh791 million NYS scandal.
He told the media at Parliament buildings on Thursday that 90 MPs support his motion, which he expects National Assembly Speaker Justin Muturi to approve by the end of the day.
Keter said in the motion that Waiguru should be impeached over IDPs' resettlement, Huduma Centres construction and the youth fund scam.
Other grounds cited in the second effort to remove Waiguru are gross violation of the constitution in the management of the NYS, leading to loss of public funds and financial irregularities.
Muturi rejected the motion on October 23 saying it only had 80 signatures after 17 MPs withdrew support.
The motion requires 87 signatures to be approved by the Speaker and support by 117 MPs to sail through during voting.
The Speaker had said he would have no problem approving the motion, after which Keter would be required to officially notify the House of his intentions to initiate it.
But on September 29, Keter said he had prepared a motion of no-confidence in Muturi.
House rules require that in the event there is no threshold for the motion, the member or any member of the public pursuing the matter must be officially notified and its details expunged from the record of the House.
– the-star.co.ke