ODM accuses Uhuru advisor Nancy Gitau, Iringo of helping 'fix' Ruto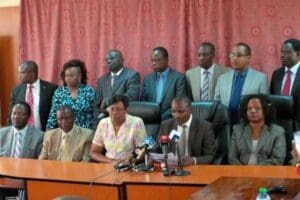 ODM has called for the prosecution of the President's senior political advisor claiming she procured false witnesses against the DP and a journalist.
National chairman John Mbadi said the advisor, Nancy Gitau, "worked with [Gatundu South MP Moses] Kuria to procure the witnesses".
He said Kuria, who confessed that he bought off the witnesses, and Defense PS Mutea Iringo also helped frame DP William Ruto.
Ruto is facing crimes against humanity charges at the ICC, in connection to the 2007/8 post-poll violence, alongside former journalist Joshua Sang.
Mbadi said Gitau was the "top behind-the-scenes manager" of Uhuru's presidential campaign in 2012/2013.
"This was illegal since she was a civil servant, but being a politically-aligned servant beholden to Uhuru she was untouchable," he said.
"At various times of her employment in government she has been viewed as Uhuru's political agent."
He spoke during a press conference at Parliament buildings on Wednesday, accompanied by 10 MPs.
Mbadi claimed Uhuru protected the three as he was "powerful and duty-bound" to do so, adding that authorities "appear afraid to touch them".
He asked the President to "actively facilitate" their prosecution, saying; "We will only believe Uhuru if he disowns his untouchable, favourite and arrogant disciples and sacks them."
Mbadi said Kuria, who implicated several leaders in the procurement of the witnesses, "mysteriously" secured a parliamentary seat as his ties with Uhuru "run deep".
"TNA controversially gave him the ticket as its nominee and after that Uhuru asked all opponents to step down for him. It [seems] the President felt he was heavily indebted to Kuria," he said.
The ODM chairman said they support Cord leader Raila Odinga's statement on the ICC case, that he issued on Tuesday.
Raila asked Uhuru to explain his role in 'fixing' the DP at the international court, claiming Kuria acted for him when he allegedly bought off the witnesses.
Noting that National Assembly Majority leader Aden Duale was a member of ODM, Mbita MP Millie Odhiambo said if the party fixed Ruto he was at the centre of it.
"This is not a camel market where people come and give evidence to The Hague. Raila is not going anywhere and Duale should be the first to go to the ICC," she said.
Kuria claimed Raila, Kisumu Senator Anyang' Nyong'o and Narc Kenya leader Martha Karua were involved in ensuring Ruto's case went to full trial.
The Opposition leader refused to record a statement following a directive by DPP Keriako Tobiko. Karua and Nyong'o are yet to record theirs.
Raila said he would not "indulge the idle curiosity of investigative agencies".