Drama in Kisumu court as murder suspect jumps over dock and tears files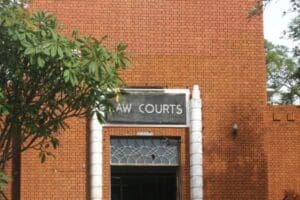 A murder suspect jumped over the dock at Kisumu High Court and tore court files on Thursday.
Dennis Kebati tried to escape after the incident and but was later arrested and is being remanded at Kodiaga prison, Kisumu East AP commander Karanja Muiruri said.
Kebati was allegedly irked by the delay of the hearing of his murder case, prompting him to destroy the files.
He is faced with another case, together with two inmates; Samson Machoka and Douglas Onyancha, for the murder of  Kisumu serial killer Harrison Okumu on the evening of May 20.
The three are alleged to have committed the offence at Kisumu Main Prison.
Okumu was in remand answering to charges of murdering two people and burying them in his compound.
He was accused of killing more than five people and burying them next to his house in Rabuor village in the outskirts of Kisumu City.
The serial killer had attempted suicide last year in December when he set himself ablaze inside his prison cell.
– the-star.co.ke