Cracks emerge in Jubilee Party as New Ford Kenya chair resigns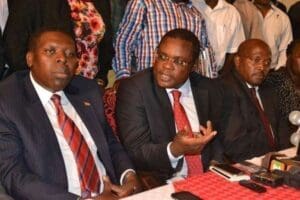 Cracks emerge in newly formed Jubilee Party as New Ford Kenya chairman Kipruto arap Kirwa resigns following a directive that all affiliates in the ruling coalition be dissolved.
Speaking in Cherang'any, Mr Kirwa said he would not wait to have his political rights be infringed on by being coerced to join the new party terming the move as an insult to democracy.
The former MP said the "forced dissolution" of all parties that are under the umbrella of the Jubilee coalition is unconstitutional as it contravenes Article 38 of the Constitution which guarantees freedom on political choices.
"I have from today resigned from the New Ford Kenya party where I have been the national chairman in exercise of my right to make my own political choices," he spoke during a funds drive at Cheptiret Primary School.
The former cabinet minister further said the formation of the new party may lead to a lead new general election.
"The country may be headed for early elections since the two parties which formed the government are about to be dissolved. The jubilee party was not on the ballot paper," said the former MP.
However, the former Cherang'any MP Joshua Kuttuny who was present tried to persuade Kirwa to join the new Jubilee Party saying it is the party to watch in the next general elections.
"I urge you my brother to directly join the Jubilee Party now. You will be guaranteed of fairness and victory in your bid to become the senator of Trans Nzoia County," said Mr Kuttuny.
Meanwhile, New Ford Kenya party leader Ken Lusaka advised members of the party against panic saying the party's National Executive Committee will be meeting soon to deliberate on its future.
Ford Kenya and KANU officials in Trans Nzoia County are already eager to benefit from the number of defectors from the New Ford Kenya party, in the event that the party is dissolved.
"We are welcoming all politicians within the New Ford Kenya to join our party. They should be rest assured that the Jubilee Party will not make an impact in this region," said Mr Ken Wafula, an official in Ford Kenya in Trans Nzoia.
Trans Nzoia KANU interim  chairman Pius arap Kauka also invited all politicians in the region who are not comfortable with the Jubilee Party to jump ship earlier saying the cockerel party will be their perfect destination
-nation.co.ke