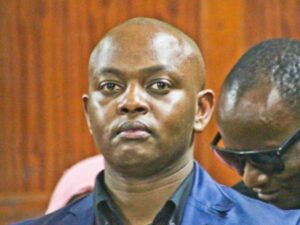 The man at the center of the Sh791 million National Youth Service theft has revealed his company, Horizon Ltd, is worth Sh3 billion.
Ben Gethi said he earned his money by supplying NYS with fuel and food — not infrastructure projects linked to the Sh791 million scam.
The 31-year-old city businessman appeared on KTN's Jeff Koinange Live on Thursday night and denied stealing NYS money.
"I have audited accounts showing the worth of my company. I did not start business today. I did not stumble on the NYS money without doing the job. I participated in competitive tender," Gethi said.
He is facing criminal charges of stealing Sh791 million from the Department of Planning in the Devolution ministry. Twenty-two others face related charges.
Gethi said his first tender was Sh500 000.
Speaking for the first time since being charged in court, Gethi said he was innocent and has been doing legitimate business with NYS for five years.
His biggest single tender was Sh50 million, Gethi said.
"None of my companies are associated with the Sh791 million. The courts will bail me out. I am not scared because I am not guilty. I am a self- made person and I am ready to pay for my sins if convicted by the court," Gethi said.
He denied owning property through proxies.
"There are big names who have money at NYS — almost all contractors know each other. The information out there is how Gethi spent his money, it doesn't say how he acquired the cash," he said.
Gethi said he could be targeted in a witch-hunt by people trying to clear their names.
"There is someone who wants to buy freedom by coming with an impression alleging I picked NYS money without working," he said.
Gethi said he never recorded a statement with the CID or EACC.
"I was forced to tell my part in court," he said.
He said he never met former Devolution CS Anne Waiguru who resigned over the scandal and only met former NYS boss Nelson Githinji in court, facing charges.
-the-star.co.ke