HEARTY LAUGHTER AS YOUNG MAN ASKS UHURU TO LET HIM MARRY NGINA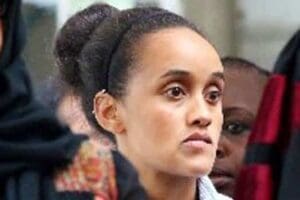 A young man from Tana River County on Wednesday brought a serious youth dialogue meeting with the Head of State to a hearty laughter when he sought President Uhuru Kenyatta's help in securing his daughter Ngina's hand in marriage.
The curious request was made when various youth from different counties across the coastal region had congregated at State House Mombasa for a Coast Youth Dialogue Forum.
During the presentation, the youths appointed to represent various counties aired presented issues of concern to the President.
When the turn for the Tana River County Representative came, he made his developmental requests but at the end took the opportunity to convey his interest in the first daughter.
LOUD LAUGHTER
The President then commented on the development issues and concluded by stating, "Hiyo ya mwisho jitetee," sending the participants into a loud laughter. "Na ukifanikiwa nitakula Christmas Tana River."
Among the issues presented during the dialogue forum by coastal youths was the issuance of identity cards to which the President said every Kenyan has the right to be issued with the document.
The disabled were also represented during the forum with the President stating the government's commitment towards ensuring that 5per cent of government jobs are given to the disabled.
The President, who was accompanied by Cabinet Secretaries during the forum, also announced plans to have the first talent academy established in Mombasa County.
-nairobinews.nation.co.ke