I have list of 'principal suspects' in illegal sugar business, says Atwoli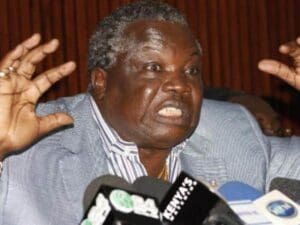 Francis Atwoli has said he has a list of "principal suspects" in the simultaneous smuggling of contraband sugar through the Port of Mombasa.
The Cotu secretary general said in a statement on Saturday that he is ready to submit the names to relevant authorities in confidence.
"All sugar barons are well known to the government. It is hypocritical for any government agency to claim it is investigating those involved," Atwoli said.
"Individuals behind huge illegal imports will be having joint breakfasts around the city with them while the sugar industry is in its last stage of collapse."
His statement follows the recovery of Sh344 million in ethanol and contraband sugar at the port.
Atwoli commended the EACC and the KRA for seizing the containers but said the "chronic problem" must be addressed for Kenya to revive the industry.
He demanded the arrest of those involved in the illegal imports and a departure from the "usual chorus that Kenyans have always been treated to of 'we are making leads in investigations".
He noted in the statement that 60,000 jobs were lost in the industry in the last quarter of 2015, based on findings by Cotu's economic and research department.
"The trend is likely to worsen this year as cartels in the sugar industry go full-throat to package the sugar into Mumias Sugar Company packets," he said.
He sought an explanation for the company's verge of collapse over the lack of a local market, saying supermarkets are full of what has been branded its product.
On Friday, Ethics and Anti Corruption Commission said the ethanol in 64 containers had been imported by unlicensed excise manufacturers between October and December 2015.
Officers found 39 containers stuffed with sugar, CEO Halakhe Waqo said, adding it could potentially draw more than Sh56 million in revenue.
"Sugar is a protected and highly sensitive commodity which requires an import permit by the sugar regulatory authority. It attracts 100 per cent duty over and above levies," he said.
The EACC chief executive issued a joint statement with the Kenya Revenue Authority at the Port of Mombasa on Friday.
Waqo said 11 companies and 33 individuals are being investigated over the "simultaneous smuggling of illegal goods through porous Kenyan boarders and diversion of multi-million goods at the Port of Mombasa".
-the-star.co.ke