Joho Deny 'Spending Sh2.7 Million On Fidel Odinga Event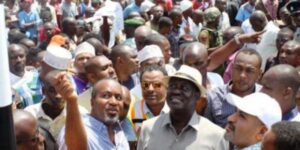 Mombasa County Governor Hassan Joho has come out to vehemently dismiss a report making rounds on social media regarding the amount of money used to launch Fidel Odinga Road in honour of CORD leaderRaila Odinga's late son.
The County boss refuted claims that he had used more than Sh2.7 Million for the single event, as was published by a statement purported to have been prepared by the county's Department of Transport and Infrastructure.
The statement circulated on Twitter gave a breakdown of how the money was used with the bulk of it going to hosting Odinga's tranJoho Speaks After 'Spending Sh2.7 Million on Raila' Claims sport and accommodation, an issue that enraged a section of  the residents.
However, Joho said that the unsigned report was not authentic since Odinga's visit was not funded by the County.
"Those are unfounded claims just for cheap propaganda. First of all Raila didn't come to Mombasa as a county guest. He funded his own trip. Anyone who is observant can easily tell that whoever is behind the document is clueless. I don't know who wrote the report and maybe whoever did it understands better," Joho was quoted byPeople Daily.
According to the document, the county had spent Sh350,00 on hospitality for the former Prime Minister, Sh450,000 for refreshments and Sh300,000 for his transport among other expenses termed as lavish.
Here is the document:
-kenyans.co.ke