KENYA'S MOST EXPENSIVE TOILET BUILT AT A COST OF SH11.3M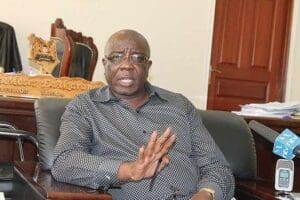 A county-owned radio station in Vihiga built a toilet for its staff, who are yet to be hired, at a cost of Sh11.3 million that was not factored in the budget, says an assembly team.
Vihiga FM is yet to begin transmission, two years since it was set up.
A report by a special committee that investigated the county's Sh2.5 billion debt, reveals that a Sh14.7 million wall was erected around the station.
The station is yet to be licensed but has already set up a transmission studio and mounted a communication mast.
When members of Vihiga FM's board of directors were sworn into office in June last year, Governor Moses Akaranga said the establishment of the radio station was a milestone in his efforts to ensure access to information by residents as required by the Constitution.
When the Nation visited the studios at Municipal Grounds in Mbale, the principal information officer in charge of the radio section, Mr Sammy Oyando, refused to make a comment.
In its report, the committee notes that the radio project is among seven others that were implemented during the 2014/2015 financial year without the assembly's approval and cost the regional government a total of Sh79.3 million.
"Due budgetary process is a prerequisite before project implementation to ensure there is no loss of funds, no misappropriation. This also prevents the haphazard commitment of government resources without authorisation," says the report.
Other projects executed outside the budget include a Sh13.5 million dining hall at Kaimosi Friends University College, the rehabilitation of the eight-kilometre Kapsanjo-Habalia road at a cost of Sh3 million and the installation of Internet and Wi-Fi services at the Mbale-based medical training college at a cost of Sh1.7 million.
The committee now wants Finance Chief Officer Wilberforce Ndula held responsible for the expenditures that were not budgeted for and consequently be surcharged.
-nairobinews.nation.co.ke