Joho's deputy in trouble for attending JAP rally in Malindi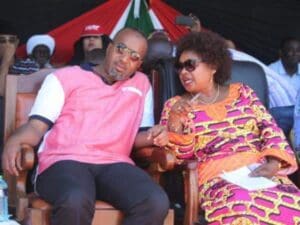 County guards Wednesday stormed the Mombasa deputy governor's home and attempted to take away her official car as speculation mounted that she might have fallen out with her boss, Mr Hassan Joho, over her suspected political leanings.
The guards, who were accompanied by officers from the Inspectorate Department, arrived at Ms Hazel Katana's Nyali home in three cars at around 10am and demanded the keys to her official car.
They were, however, repulsed by Ms Katana's security guards manning the gate and abandoned their mission.
"The officers came and parked in front of the gate and demanded to get into the compound. They started banging the gate, saying they had been sent by the county government," a security guard, who spoke on condition of anonymity, said.
Ms Katana said Wednesday she had been told to vacate her office but declined to say who had issued the instructions, only saying she had not received official communication.
She said she had made several calls to the county secretary and other officials to seek audience with them but her calls were not answered.
"I wish someone would be honest enough and tell me what is going on. My conscience is still clear. They should have summoned me and said where they had seen a problem," she said.
ADDRESSED JAP RALLY
Last week, Ms Katana addressed a campaign meeting for JAP candidate Philip Charo at her Kaloleni Village home, a fact that did not go down well with the ODM team.
She was said to have declared her support for the candidate in the Malindi constituency by-election, which she flatly denied.
"I did not declare my stand. I only urged the voters to elect a person who will be a good leader and who will articulate their issues effectively.
"I never declared which side I support. I will do that when the right time comes," she said on the phone from Kaloleni. She said the meeting was held in her village and "as a leader from this place, I was asked to greet the people".
Lately, there has been speculation within the county that the deputy governor has been working with the Jubilee government.
When President Uhuru Kenyatta was on a one-month tour of the Coast in January, Ms Katana held talks with him and attended a function at Waitiki Farm where 5,000 title deeds were distributed to the squatters.
Mr Joho cried foul, accusing the President of sidelining him, by failing to meet him.
Ms Katana on Wednesday denied working closely with the Jubilee administration, saying those were rumours being spread by her political rivals.
"I am not a politician and I have never campaigned for the Jubilee Alliance Party or declared any intention to join it. I am still the deputy governor and I will do my job until 2017," she said, adding that the attempted raid on her home was meant to embarrass her and damage her image to settle political scores.
County Director of Communications Richard Chacha said no one was harassing the deputy governor.
"I can tell you for sure that nobody is trying to intimidate her. The problem arose when she refused to release the car that was to be used to pick up some visitors from the airport," Mr Chacha said on the telephone.
-nation.co.ke