My life in danger after killings of my German Shepherd Dogs-Ruth Odinga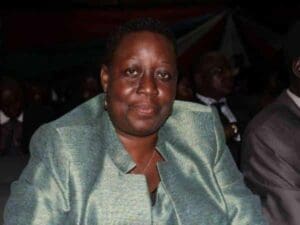 "MY life is in danger following the killing of my three German Shepherd dogs in one month," Kisumu Deputy Governor Ruth Odinga has said. Ruth, who wants to run for Kisumu governor next year, said her veterinary doctor confirmed the dogs were poisoned.
"I don't know whether the killing of the dogs, which have been my only source of security, has a connection to my popularity across the county," she said.
However, Kisumu North police boss Peter Omanwa said the matter has not been reported.
"Let her make a formal report before we can launch investigations. Right now, I'm not in a position to make further comments," he told the Star on the phone.
Ruth said she is worried about her security in her Nyahera home. She said she would report the matter to the police and called for her security to be strengthened.
"I don't know the intention but fear for my life. This week one died, last week and the other week also. This trend is worrying me a lot and I cannot now spend my night in Nyahera," the deputy governor said.
Ruth said she was not assigned security officers at her Nyahera home. She said she
did not bother about it "because I knew I had my dogs". She said she cannot gamble with her security.
"I am wondering who is killing my dogs. Could it be because I am a threat? I can now not live in that home because I don't know what will happen next," Ruth said.
Two weeks ago, police headquarters said it is drawing up criteria to be used in assigning security details to governors to ensure they have uniform number of officers. Some county bosses have up to 20 officers attached to them, Kenya Police spokesman Charles Owino said.
This emerged when Mombasa Governor Hassan Joho's security was trimmed from 15 to five.
Governors accused the state of exposing them to insecurity. However, Owino said those wanting more guards will have to pay for them. "The move will apply to all other governors who have more than five security officers," he said.
-the-star.co.ke