Video/Photos:First Lady, Margaret Kenyatta busy schedule in Phoenix Arizona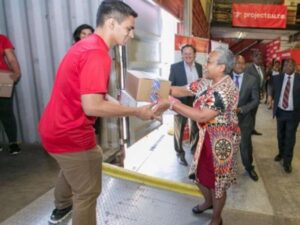 First Lady Margaret Kenyatta on Tuesday participated in the loading of medical supplies worth Sh50 million into a 40-foot container destined for Chemolingot Hospital in Baringo county.
The medical supplies are the first consignment by Project C.U.R.E to be shipped to Kenya in the coming weeks from the US where the Mrs Kenyatta is on a tour of duty.
The equipment destined for Chemolingot includes incubators, catheters for various purposes, different types of syringes, blood drawing supplies, feminine supplies, general surgery packs and different types of medical transformers
The consignment also includes birthing and electrical beds, computers, oxygen tanks, pediatric and adult wheelchairs, surgical instruments and different types of laboratory supply kits.
"This health facility has been through an assessment process, and identified as a hospital most in need. I have been assured that medical supplies we are loading here today meet the needs of the healthcare facility," the First Lady said.
He was joined in the loading by senior staff from led by Chief Executive Officer Dr. Doug Jackson, Scottsdale City Mayor Jim Lane and the Governor of Arizona.
Photos courtesy:PSCU