Jubilee rolls out 2017 strategy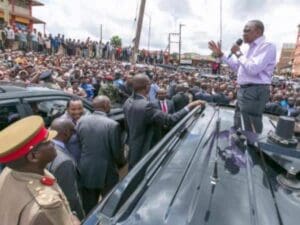 Campaign preparations, from big-picture strategy to the smallest details, have been launched for the reelection of President Uhuru Kenyatta and Deputy President William Ruto.
When Uhuru and Ruto launch their 2017 reelection campaign on Saturday in Afraha Stadium in Nakuru, the wheels will already have been set in motion.
The one-year plan requires a secretariat to raise money and run the campaign.
"In the last election, Team Uhuru based in a godown in Industrial Area ran a very efficient, information-driven machine that delivered results. The new secretariat will be even more organised," a campaign source said.
Uhuru's aide Jomo Gechaga is the interim team leader. He will be joined by people from State House, the Office of the Deputy President and the private sector.
Public servants on the campaign team will resign their positions by the end of this year.
Gechaga's team is working on ICT plan to monitor every single vote across Kenya. It is part of the plan to use he digital space to reach millions of voters, especially young people.
Special committees at national and county levels will handle logistics, mobilisation and voter registration.
Instead of working with regional chiefs, the President is considering working with teams in every county, especially where he failed to win votes in 2013. targets 10 percent of the votes in opposition zones.
Strong candidates will compete against each other to prevent fallout from direct nominations and counter voter apathy.
Strongholds, opposition zones and battlegrounds have been mapped in detail.
The strategy encourages people in Jubilee strongholds to get involved in political activities at the grassroots and select politicians expected to address issues key issues such as clean water, better education and improved health services.
This will appeal to masses in Jubilee-dominated areas to turn out and vote in large numbers.
"We are first looking inward before going outward. People should first have IDs and voter's cards. Then we involve candidates and other parties on another level when these are in place," said Jubilee Alliance Party Secretary General Veronica Maina.
The party plans to use religious leaders, musicians and entertainers, youth leaders, opinion leaders and a range of professionals.
"We have to work on modalities ensuring a higher voter turnout next year," Maina said. "We are putting in place structures ensuring that first we have the numbers before the start of the campaigns."
Jubilee's internal research
party strongholds, followed by failed campaign promises in the manifesto, as well as allegations of rampant corruption leveled against President Uhuru's administration.
"We (Jubilee) are good in mobilising people and already our people have taken the identity cards. However, we cannot give out all the information on our plans since our weak competitors (Cord) might steal ideas to implement in their favour," Kasarani MP John Njoroge said.
"Let us wait and see. Our plans remain superior because they involve a whole voting process where we start with civic education, people taking IDs and then voting on the final day," Njoroge said.
Some members of the Presidential Strategic Communication Unit are expected to leave and join the secretariat, together with former members of the 2013 Team Uhuru.
In 2013 Uhuru won 6,173,433 votes, while Cord leader Raila Odinga garnered 5,340,546. Uhuru won with 50.51 percent against Raila's 43.70 percent.
As a result, the Jubilee Party will manage party politics, while Gechaga's secretariat will manage the campaigns.
The plan calls for DP Ruto of URP and Meru Senator Kiraitu Murungi of APK to take over the Jubilee Party and position it as a Meru and Rift Valley outfit — doing away with the limiting Kikuyu tag. Ruto is preparing the party as his vehicle to win the presidency in 2022 and 2027.
New voters will be targeted, particularly in the Mount Kenya region, Nakuru, Tharaka Nithi, Kiambu, Murang'a, Embu, Nakuru, Meru and Nyeri counties.
"We are looking at four million voters in these regions. Then we will put in place mechanisms to get 25 percent in all other counties under a coalition to weaken Raila and the opposition," a source told the Star.
The areas where battles for the Jubilee ticket are expected include Nairobi, which is crowded with Margaret Wanjiru, Mike Sonko and Dennis Waweru. In Kiambu county, Kabete MP Ferdinand Waititu and Governor William Kabogo will lock horns.
In Murang'a, Jubilee may field Kigumo MP Jamleck Kamau, who is from the south of the county, for the governor's office. The county's north is already well represented by Jubilee with Governor Mwangi Wairia, Senator Kembi Gitura and woman representative Sabina Chege.
Embu county will see Runyenjes MP Cecily Mbarire take on incumbent Governor Martin Wambora, who are from the Embu and Mbeere communities.
Tharaka Nithi will see a race between incumbent Samuel Ragwa, Ngece Rinjeu and Chuka Igambang'ombe MP Muthomi Njuki.
Others are former Nithi MP Petkay Miriti and former Tharaka MP Francis Kagwima, representeing different interests at the county level.
"In Tharaka Nithi, they don't vote clans but all the aspirants are very famous people and well known. Petkay is a former Minister and an Assistant Minister of Trade. Hei and Muthomi come from the same clan. Ragwa is from Maara constituency," the source said.
In Nakuru, John Mututho, Senator James Mungai, Kinuthia Wamwangi and NTSA chairman Lee Kinyanjui are going for the governor's office. In Nyandarua former PS Francis Kimemia will run against incumbent Daniel Waithaka.
In Meru Kilemi Mwiria takes on Peter Munya, while in Nyeri Wahome Gakuru takes on incumbent Nderitu Gachagua.
-star.co.ke