Goons caught on camera mugging bystander during protest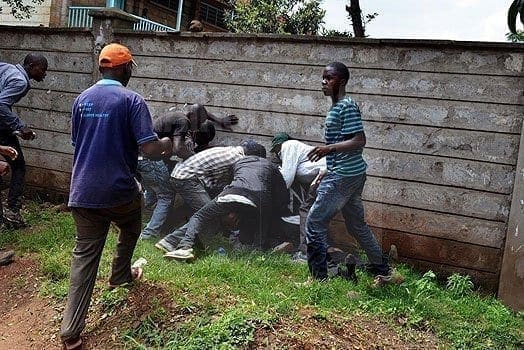 These images capture the dramatic moment an unlucky man was accosted and mugged by goons who had infiltrated the anti-IEBC demonstration convened by Cord leaders in Nairobi on Monday afternoon.
The young man was mugged outside Moi Avenue Primary School in full view of members of the public.
He was tackled to the ground with about six goons descending on him and emptying his pockets.
Businesses along Moi Avenue had to quickly close to avoid looting as a huge crowd surged along the street heading towards the electoral offices.
Cord leaders Raila Odinga, Kalonzo Musyoka and Moses Wetangula have called for street protests every Monday to push for the removal of IEBC commissioners whom they are accusing of bias.
Although the demos are designed to be peaceful, some hooligans posing as genuine demonstrators, have infiltrated them.
In the third demo on Monday, anti-riot police officers together with officers from the General Service Unit engaged the demonstrators in running battles along city streets from university way all the way towards the city.
-nairobinews.nation.co.ke
Goons caught on camera mugging bystander during protest