When I visited Memorial Park of the American Embassy Bomb Blast Site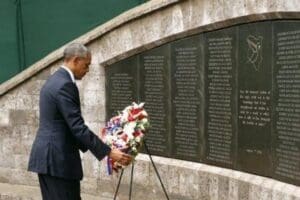 It was afternoon, but vehicles had their headlights on. There was also round honking. My memory of the 1998 bomb blast of the American Embassy remains vivid in my mind.
I was class 7 pupil at Kingeero Primary School in Kabete. I witnessed this strange phenomenon from the school playground. The school is right next to the Lower Kabete Road.
The size of the blast was so great and shook our nation. The drivers on the road lit their headlights to symbolically communicate of this disaster.
Only yesterday, 18 years later, did I have an opportunity to visit the bomb blast site in Nairobi.
A feature film made me visit. I am part of the crew creating a film, which is part of a class assignment.
I watched with great interest how the Americans in collaboration with the Kenyan government have transformed the site.
Blood soaked that soil. Broken glass glazed the ground. Concrete hit young and old alike as the blast happened. Tens died, others injured and maimed. Families lost. Communities lost. Kenya lost. Many nations lost.
But from that ugly scene, something beautiful was born.
The August 7th Memorial Park.
I watched with much interest the people sitting in the park.
A woman walked in carrying a big paper bag. She took a plastic chair and sat under a shade. She then removed her knitting needles and yarn. She continued sewing her half-done sweater, quietly.
Three women sat on a bench, they talked heartily among themselves.
A young man, with one leg swung over the other, had his earphones on and was nodding to some music from his phone.
Another larger group were sitting around a table. I think they were having a meeting of some sought.
Many others were in the park the afternoon I was there.
There was also the guard and cashier at the entrance. You hand in KSh30, put in a slot machine, which automatically opens the barrier for one person to enter.
Near the entrance is also a toilet.
The park is along the Haile Sellasie Avenue.
Only when I was leaving the park did I see a mounted picture of the disaster that was in 1998, otherwise the park is nothing like what the terrorist inflicted on us.
We have healed. We have moved on.
By Anne Kanina.