A Kenyan's quest to become the world's most desirable man
Mr Kevin Oduor Owiti, 21, Kenya's representative to the Mr World pageant, knows that a man too has beauty and a purpose.
Mr Owiti is currently in Southport, UK contesting in a pageant that seeks "The World's Most Desirable Man." Standing 5'9, the athletic third year Business Management and Economics student at the Catholic University in Nairobi is confident that he is that man. Like a glass of water, he comes across as cool, clear, innocently good and honestly uncomplicated.
"I am humbled to be representing my country at the world finals and I hope to bring the crown home. Since I took the national title, I have been preparing myself physically and mentally with the help of some mentors who have helped me become a better version of myself," he says. The staunch Christian says he too has been praying and fasting for the title.
Crowned alongside Miss World Kenya in Malindi, Kilifi County, in December 2015, Kevin is the first Mr Kenya in almost a decade. The office of Mr World Kenya has been vacant since Victor Mugambi was crowned in 2007.
Without an immediate predecessor, Mr Owiti finds himself having to define the office that many assume is about wearing few clothes to show off muscles on a body polished in oil. Far from it, he says, the pageant is looking for an all-rounded person with good looks, physical strength, charisma, charm, and a strong personality.
These are judged across five events, those of: fashion and style, the extreme physical challenge, multi-media award, the sports challenge and the talent competition to reveal the person who is most desirable of all. The winners in these five categories earn a slot in the top ten while the other positions are decided by panel of judges.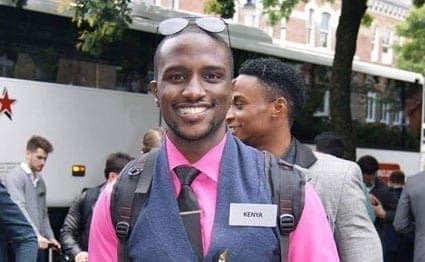 Mr Kevin Oduor Owiti, 21, Kenya's representative to the Mr World pageant. PHOTO | COURTESY
With the high-octane buoyancy of the young, what Owiti is most sure of is his talent. Speaking with a certain wisdom and rhythm of a seasoned poet, his face lights up with a boyish smile revealing an impossibly perfect set of teeth. He holds a steady, level and interested warm gaze and speaks with a confidence and sureness that is equally self-effacing.
"I'm not sure if I will sing or present a spoken word piece but which ever I choose, I'm sure to blow away the judges."
These talents are what earned Kevin, representing Siaya County, the national title. Making the transition from modelling to pageantry, Kevin has had to put his studies on hold. "I'm giving all my attention to this title and I hope to take it as far as I can go. School will still be there and I can always come back to it." He too has let go of the relationship he was in prior to winning the Mr World Kenya title.
The model who has made a small fortune from starring in commercials, says if he wins the title, he will use it as a platform to campaign for the boy child.
He is unclear about the specifics but he knows he can inspire boys starting with encouraging them to enter pageants. Modelling, by tradition, is an aggressive, judgmental and competitive business but he believes that there is room for more men.
BIO:
Kevin Odour Owiti, 21
Relationship status: Single
TITLES
Mr World Kenya 2016
Mr Siaya County 2016
Mr Catholic University 2014
TV COMMERCIALS
Kenya @50
KCB Pepea
Safaricom Tetemesha
Safaricom fanikisha
Numi noodles
The title has come at a sacrifice. As Mr Kenya he has to be neat and clean-shaven at all times.
HE CANNOT:
Be seen in a matatu
Go to Gikomba or any open-air market
Go to an entertainment joint (lest he be seen to endorse whatever he is drinking)
Be seen in public with girls lest rumour mills go into overdrive
KEVIN DRIVES
A BMW 323ci, a red coupe that he calls "Bae".
TRIVIA
As with all pageants, a smile is a must. His secret for picture perfect smile all the time is to mutter "sixty-six" under his breath.
Mr World is owned by Miss World whose local franchise holder is Terry Mungai of Ashleys Kenya.
From Africa, only Kenya, Ghana, Nigeria and South Africa are represented in the pageant whose king will be crowned on Tuesday evening.
A Kenyan's quest to become the world's most desirable man