Miss Kenya Evelyn Njambi among top five most beautiful at world 2016 pageant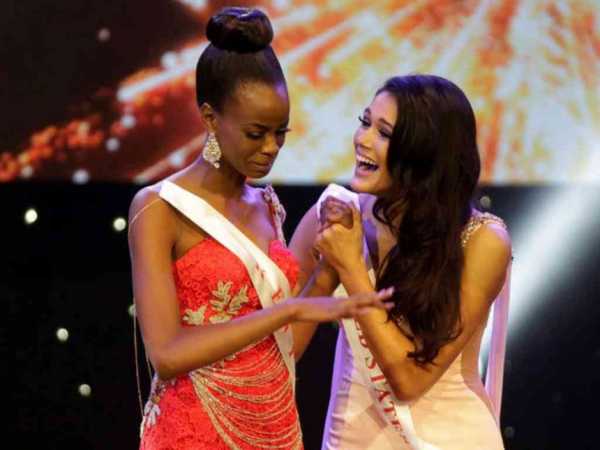 Miss Kenya Evelyn Njambi Thungu (L) is congratulated by Miss United States Audra Mari after Thungu was named a finalist in the Miss World 2016 Competition in Oxen Hill, Maryland, U.S., December 18, 2016. REUTERS/Joshua Roberts
Kenya's Evelyn Njambi Thungu was among the five finalist of 66th edition of Miss World 2016 pageant held this year in the United States.
Puerto Rico's Stephanie Del Valle was crowned Miss World 2016 on Sunday, winning the top prize.
The 19-year-old law and communications student said it was an "honour and a great responsibility" to represent her country.
The first runner-up was Yaritza Miguelina Reyes Ramirez of the Dominican Republic, followed by second runner-up Natasha Mannuela from Indonesia.
Another top five finalist was Catriona Elisa Gray from the Philippines.
Contestants from more than 100 countries took part in the Miss World beauty pageant, held at National Harbor near Washington, D.C.
Njambi replaced Roshanara Ebrahim who was dethroned due to a breach of the Miss World franchise's "code of conduct". Njambi was the first runner-up to the Miss World Kenya 2016.
The 23 year-old interior design student at Maseno University is the reigning Miss World Kenya, Kiambu County 2016.
During her reign as Miss World Kenya Kiambu, she engaged in various activities for her county, including supporting children to access quality education.
She has worked with the Red Cross Chapter in Kiambu to donate text books and uniforms to children, as well as sanitary towels to girls.
Accepting the prestigious title then, Evelyne said, "I am excited to be Miss World Kenya 2016; the journey ahead is tough with such a short time, but I appeal to the public to support me both towards my international competition and my Beauty with a Purpose project of advocating against Female Genital Mutilation in our beautiful country."