Wetang'ula's dilemma over Mudavadi bid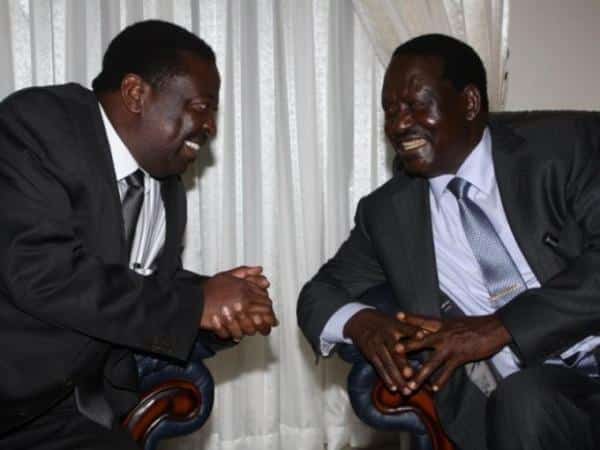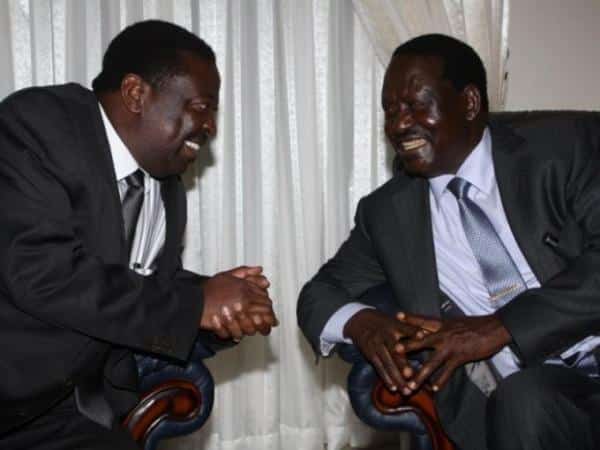 Cord co-principal Moses Wetang'ula is facing difficult choices following a push to reunite ANC Leader Musalia Mudavadi with his former ODM boss, opposition chief Raila Odinga.
Ford Kenya leader Wetang'ula wants to be the Cord 's presidential flagbearer, as do Wiper's Kalonzo Musyoka and Raila himself. So does Mudavadi.
But as Raila and Mudavadi cozy up — and there's talk of a super alliance and a ticket — Wetang'ula could be left out in the cold.
Could he go it alone, run again for Bungoma senator, try for the governor's office or join the mega Jubilee Party that has been courting him?
Both Wetang'ula and Mudavadi seek the crucial Western vote, both are Luhyas but Mudavadi is considered more popular, with wider following as an ethnic Maragoli. Wetang'ula is a Bukusu.
Mudavadi was Deputy Prime Minister from 2008-2012, he decamped from ODM and ran third in the 2013 election.
His anticipated entry into Cord would shift the power balance and likely elbow the Bungoma senator and Senate minority leader from the helm of the opposition.
Most Western Kenya leaders, including key Raila allies strongly opposed to Wetang'ula, have said they are willing to back Mudavadi. This would significantly reduce the influence of the Ford Kenya leader.
Wetangu'la's allies have openly protested the renewed Raila-Mudavadi camaraderie.
"It [the teaming up] is really unfair and ill-timed. Why join now when Wetang'ula has declared his presidential ambitions? This is a coalition we have built from scratch and we can't allow backdoor entrants," nominated MP Patrick Wamangati told the Star.
Wetang'ula's close ally yesterday said the push by some leaders for Mudavadi to join Cord "is in bad faith" and does not augur well for Wetang'ula's influence in the giant opposition coalition.
Wamangati, a member of the Luyha Council of Elders, called Mudavadi's political game suspicious and meant to spoil Wetang'ula's chances of clinching the Cord ticket.
"If he is joining Cord, he should support the three principals … nothing less. He should not join Cord as a principal, intending to seek its 2017 ticket," he said.
Over the weekend, Wetangu'la said, "In Cord, we are three presidential candidates. Raila, Kalonzo and Weta [Wetangu'la]. I'm sure luck would fall on me. I ask my brother Musalia to enter Cord and support me," he said.
On Saturday, Wetangu'la skipped a major political event in Khwisero hosted by firebrand trade unionist Francis Atwoli and attended by top Luhya leaders. He said he was invited but was otherwise engaged.
There is speculation he anticipated Mudavadi would be endorsed as the Luhya community torchbearer in his presence.
Western leaders at the event, including ODM rebels, did make an impassioned plea for Western to support the ANC leader as the region's sole presidential candidate.
"I respect my brother Mudavadi because he is a gentleman. He is the only man I
can support, others can wait," said Kakamega Governor Wycliffe Oparanya, Raila's close ally.
Describing Wetang'ula as unripe for presidency, Oparanya said Mudavadi was the only regional leader qualified to run for the top job because "he is mature politically and sober."
Lugari MP Ayub Savula said," Wetang'ula should accept Musalia is a national leader with ample experience and a strong following [qualifying him] to serve the nation."
Yesterday Atwoli, the convener of Luhya unity talks, warned Western presidential hopefuls they have limited time to agree on the region's preferred presidential candidate. Otherwise, he will appoint one.
"As an elder, I must take full responsibility. We will sit at the table and if you would still be unavailable, don't blame anyone if you are left alone, too," Atwoli said.
On Wednesday, however, there was speculation presidential hopefuls Mudavadi, Wetang'ula and former Lugari MP Cyrus Jirongo met in secret. Details are scarce.
The Star has established that Wetang'ula and his allies plan a series of consultations next week amid the clamour by some Western leaders to have Mudavadi join Cord.
"Not that I don't respect him but Wetang'ula doesn't have the resources to stage a presidential campaign," Jirongo said.
Savula said Wetang'ula presidential bid undermined the interests of Kenyans who want fundamental change and a new regime.
"Wetang'ula should stop this to help us consolidate our vote bloc. Jubilee is working with several politicians from Western, targeting 5,000 votes from each constituency to cling to power," he said.
Savula dismissed Budalangi MP Ababu Namwamba's so-called third-force movement, saying he was struggling to develop his brand.
"When the Luhya nation is divided, Jubilee takes advantage to win elections. We don't want to Jubilee in power again," Savula said.
Wetang'ula has already indicated his willingness to work with Raila and ruled out joining Jubilee, despite its efforts to woo him.
"I am in the race for the presidency. I need your support as a community to realise that dream," Mudavadi said in Khwisero on Saturday.
The Bungoma senator also told off the Amani leader.
"We are happy Mudavadi has realised the need to work towards the common goal but he should not demand or declare himself the opposition's flagbearer. I have a better chance and he should back me," Wetang'ula said.