Duale fires back: I was not a nobody, gave campaign money to Raila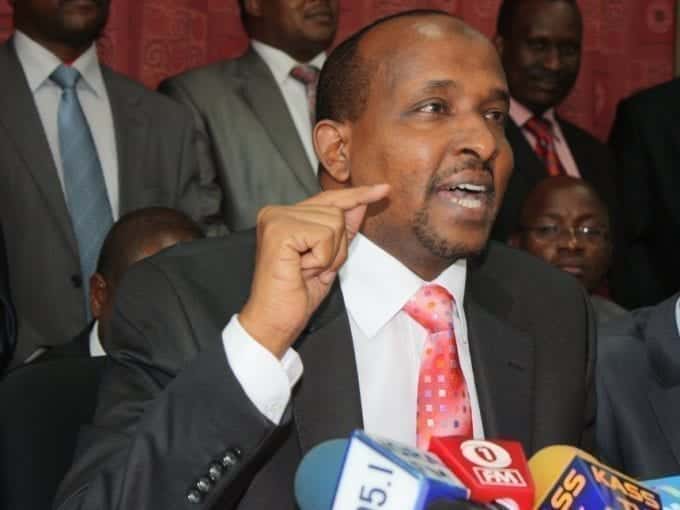 Hours after Raila Odinga said he groomed Aden Duale, the Garissa Town MP has told him off, saying he is the one who added the value.
Raila, who is Opposition chief, said he made Duale MP yet he has turned his back on him and is now dining and dancing with President Uhuru Kenyatta and DP William Ruto.
The Cord boss said he picked the National Assembly Majority leader from Mombasa in 2007, when he was a "nobody".
"I personally picked up Duale and took him to one of the Sheikhs and a group of renown elders in Garissa Town, and prevailed upon them to support him for the Dujis constituency parliamentary seat," he said.
But Duale told the Star by phone on Thursday: "Picked me? From where? In 2007, it is I who delivered more than 10 MPs in North Eastern to ODM and heavily funded his [Raila's] campaign.
"To the contrary, it is I who added value to Raila's politics by giving him a national outlook; from a Luo leader to a national leader."
Duale claimed Raila used all facilities, including accommodation, to enrich himself and that they had to part ways in 2010 because of fundamental ideological differences.
"We formed URP. He lost again to URP and Jubilee in 2013 when more than 15 MPs were elected on the party's tickets," he said.
Read: Duale explains why he left ODM
Duale has fiercely defended the government and dismissed Raila whenever he has raised concerns about matters including corruption and funds misuse.
He once questioned Raila's stance on corruption saying he could not be trusted to end the vice while defending Cord leaders implicated in the loss of millions in counties.
The Majority leader also claimed Raila had planted people at IEBC to help him rig the 2017 poll. This was before new IEBC boss Wafula Chebukati and his team were appointed.
Neither of them has shied away from responding harshly to the other's statements.
Raila once termed Duale's remarks on corruption as stupid and said he would not respond to them as they were not age mates.
After Duale claimed Raila owed Mumias Sugar company over Sh40 million, Raila threatened to sue him.
He said Duale portrayed him as a "debt defaulter who unlawfully withheld from the people of Western province money which is rightfully due".
Source link- the-star.co.ke