Police Boss Reveals How Ruto Lied About His Attack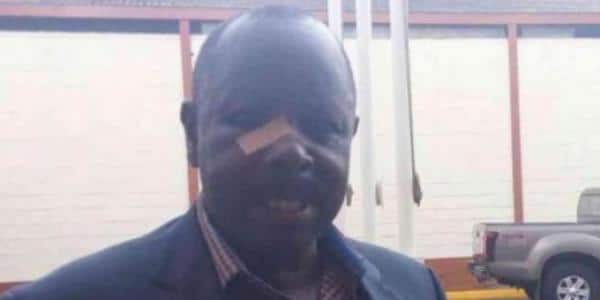 Bomet County Commissioner has accused Governor Isaac Ruto of lying to the public by claiming he was attacked by police officers on Sunday.
Ruto alleged that he was hit with a tear gas canister below his right eye after a confrontation between him and the police officers at Silibwet stadium.
"A handful of my supporters joined me and an argument ensued .A uniformed officer even made to hit me with a stick but he was thwarted. About 10 police officers retreated and lobbed tear gas canisters directly at me. A canister hit me below the right eye and I sustained a cut," Ruto stated.
However, County Commissioner Benard Lebarmarai has poked holes in Ruto's narrative stating that it was impossible to get hit by a canister shot from a riot gun and not sustain serious injuries.
"The tear gas canister is fired and if it bursts on your face… it will cause a lot of damage, whether it explodes or not," Lebarmarai stated.
The County commissioner further disclosed that the Governor had gathered hooligans to go and disrupt the match and the officers only did their work.
"The police were there because we had information that he was organising hooligans, and that is his tradition," Lebarmarai affirmed.
Lebarmarai's sentiments were echoed by National Assembly Deputy Speaker Joyce Laboso who also claimed that the Governor was accompanied by hooligans with the sole intention of causing chaos.
Contrary to Ruto's claims that he had recorded a statement with the police, Charles Owino, who is the police spokesman, stated that he never reported the matter to any of the police station.
Ruto was on Monday morning airlifted to Nairobi with reports later emerging that he would be flown to South Africa for specialised treatment.
Earlier on, the Governor claimed he went to the stadium after he received reports that police officers were harassing innocent youth who were playing a football match and went to find out what was happening before the incident.
He later claimed that the officers were acting under Deputy President William Ruto's instructions, allegations that could not be substantiated.
-kenyans.co.ke