Kenyan Man Detained By Immigration for Nine Years Heads to Supreme Court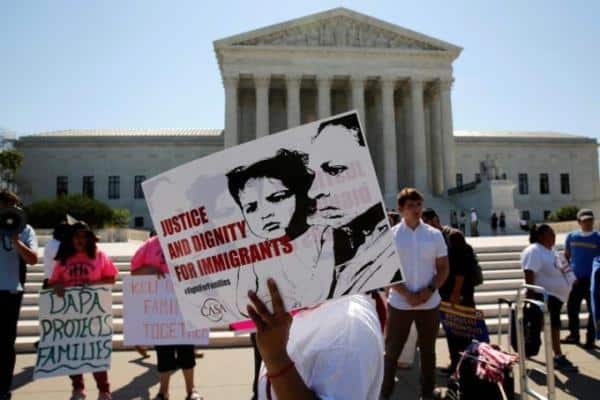 Kenyan Diaspora man Sylvester Owino had been locked up in United States immigration detention for more than nine years, fighting deportation to Kenya, when he finally had a hearing to decide his release on bond in 2015. Owino told me the US government argued he was a danger to the community because of his 1998 conviction for driving under the influence and his 2003 robbery conviction.
But the warden at Otay Mesa Detention Facility testified as to his good character, and the immigration judge, who had denied earlier motions in his case, granted him the lowest possible bond of US$1,500. His community raised the money in 30 minutes.
Demonstrators from the immigrant community advocacy group CASA carry signs as they march in the hopes of a ruling in their favor on decisions at the Supreme Court building in Washington, U.S. June 20, 2016.
© 2016 Reuters
Owino's case against deportation is still pending. But now, Owino is no longer locked up at taxpayer expense. Instead, he sells Kenyan food at farmers' markets in San Diego, working toward his dream of opening a restaurant.
Today, the US Supreme Court will hear oral arguments in Jennings v. Rodriguez, an appeal of the Ninth Circuit decision that allowed Owino to receive the bond hearing that led to his release. At issue is whether immigrants should receive bond hearings after six months in custody to determine if their detention is warranted.
In the US, most detained immigrants are held under "mandatory detention" provisions and are locked up while their cases are pending. There is no consideration of whether their detention is necessary. Mandatory detention can be triggered by many criminal convictions, including an offense that is now legal in several states – marijuana possession. Detention devastates people and their families, including children, and is sometimes even deadly, due to the poor medical care many people receive behind bars. Detained immigrants are also significantly less likely to obtain a lawyer and to win their cases. Many give up strong claims to remain in the US because they cannot bear being locked up.
The US immigration detention system is draconian and excessive by any reasonable standard. It has doubled in size in the last 10 years, now holding 41,000 people per day, at a cost of $2 billion a year. The Ninth Circuit decision in Rodriguez is a check on the abuses that can flow from immigration detention, abuses that may well multiply under a Trump administration that has promised the detention and deportation of 2 to 3 million non-citizens.
The last time the Supreme Court addressed the issue of prolonged detention of immigrants before final order of removal, it relied on false data provided by the US government claiming people were detained for much shorter periods than they actually were. In revisiting that decision in Rodriguez, the Supreme Court should remember the real stories of Owino and thousands of people like him.
Kenyan Man Detained By Immigration for Nine Years Heads to Supreme Court