Help Kenyan Diaspora student Laura Etori Stay in School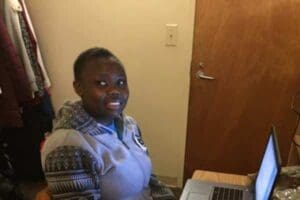 Introducing Laura Etori,  Kenyan student studying at Rutgers in New Jersey as an international student. About three years ago Laura started experiencing severe pains that would no go away.  The pains were so paralyzing that she did not realize she was losing her sight.
Medical interventions both in Nairobi and India did not yield any positive result. Laura had suffered  a very rare condition of idiopathic hypertension  (IIH). This condition affects girls in the age bracket of 18 and 23. Laura was 18. It's secondary effect is damage to the optic nerve hence subsequent loss of sight and if persistent it could lead to brain damage.
In her own words, with losing sight, she also lost the meaning of her world. It vanished and there was no way to get it back. She lost all that she had learned through her eyes and plunged into this kind of darkness that not only affected her sight but her whole being. She had to learn everything from scratch.
Laura applied and was accepted at Rutgers with the hope of getting scholarship based on academic excellence but despite excelling she has not been fortunate. She needs to transfer to a cheaper university but the university will not release her transcript and the necessary documents until she clears the outstanding balance of  $8000. She needs to clear by Monday, January 23.
Please help Laura pursue her actuarial science studies. She risks coming out of status so this is an urgent SOS.
She's on cash app
Laura Etori
PNC Bank
A/C No. 8111311289.
or
Many thanks in advance.