Uhuru adviser,Kilemi Mwiria joins Maendeleo Chap Chap party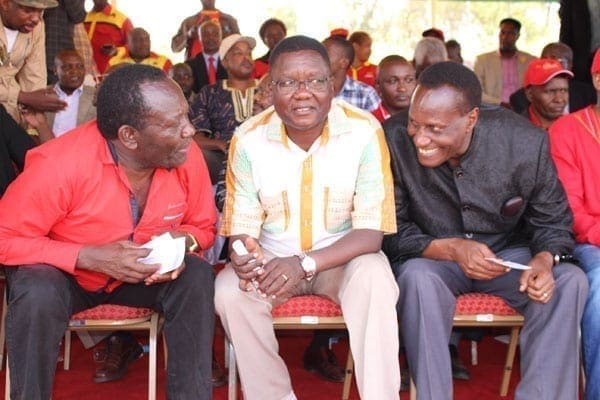 Former assistant minister Kilemi Mwiria has announced that he will vie for the Meru governorship on a Maendeleo Chap Chap party (MCC) ticket.
Hi announcement comes after he ditched the Jubilee Party on Tuesday citing loss of confidence in the party in the region and fearing that he will be rigged out of the party during nominations by an outfit dubbed Kikali.
Kikali brings together Senator Kiraitu Murungi and MPs Mithika Linturi (Igembe South) and Florence Kajuju (woman representative), who he said have created an unfair playground within the party.
Speaking to journalists on Thursday after being received by MCC party leader Machakos Governor Dr Alfred Mutua in Nairobi, Dr Mwiria said he decided to join the party because of its progressive agenda and its support for President Kenyatta's re-election bid.
"I am not going to a hostile political party. I realized there were difficulties in Jubilee, as you know in Meru we have a team called Kikali who have made it look like they own Jubilee and it would be naïve for me to expect that I will win that nomination," said Mwiria.
KENYATTA, RUTO 'CONSULTED'
Related Content
Uhuru's adviser ditches Jubilee
Dr Mwiria said he consulted President Uhuru Kenyatta and his Deputy William Ruto before joining the party and that they gave him their blessings.
"I have consulted with the President and he has no problem because the party I am joining today is a hundred percent supportive of him and given the circumstances in political parties currently, I have no doubt that we shall work together with the president," said Mwiria.
The former education adviser to the President added that he is not anyone's project and exuded confidence that he will trounce his opponents in the August elections, citing his development record while representing Tigania West as a member of Parliament and his exemplary service in the government.
'I'M NOBODY'S PROJECT'
"During the 2013 elections, I received more than 180,000 votes from the people of Meru and saying that I am somebody's project does not add up. I am not spoiling for Munya as nobody knows if he will be re-elected," he said.
Meanwhile, Dr Mutua called on Kenyan voters to vote for parties on their development records and not tribal lines as that is what will move the country forward.
"We cannot develop our country through petty politics. Youths need employment, education and better services and we cannot achieve these through politics of self-interest," said Dr Mutua.
He added that Maendeleo Chap Chap has been receiving many defectors from other parties across the country and it will field candidates in all elective posts in all 47 counties.
-nation.co.ke