It looks bad but what if NASA chose Mudavadi?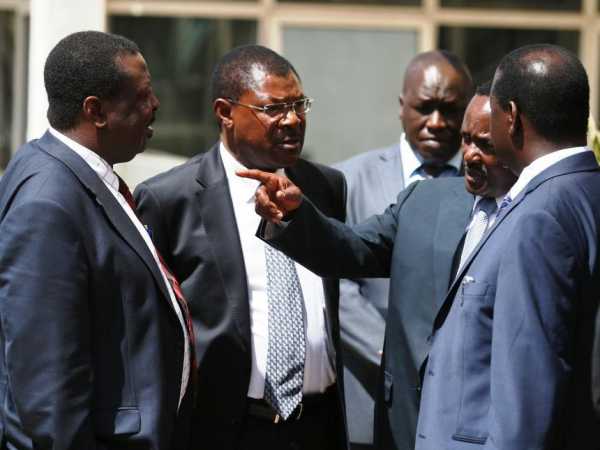 With the latest poll showing Raila Odinga trailing President Uhuru Kenyatta by a big margin, alarm bells are going off. NASA principals must move fast, now and with the greatest urgency.
They must agree on a flagbearer and running mate so they can start playing catch up with the winning team.
If they manage to stick together, rally their troops and agree on a ticket, then NASA numbers will start going up. If not, the numbers will remain static at best.
Jubilee's non-performance has not made the opposition's numbers go up. Jubilee are at 51 per cent, despite campaigning for the last four years. That means they have not been able to get even one per cent more on top of what they scored in 2013.
So if JP strongholds remain intact and their supporters turn out in big numbers and vote as they did last time, Jubilee will still win. Well above the constitutional threshold of 50 per cent plus one.
And if NASA doesn't get its act together, Jubilee will marginally win 50 per cent plus one.
NASA faces another dilemma because its ticket may badly disillusion some supporters. It is not automatic that all votes will go to whomever the alliance picks. Voter apathy and boycott could be a grave problem.
If this happens, NASA would lose to such a degree that they could not even contest the results.
Raila is the strongest but there are challenges. You can be strong and popular but are you electable? Those are very different issues. Raila may be the most popular of the four right now, but that doesn't necessarily translate into victory.
However, if you choose someone like Musalia Mudavadi, who doesn't have much in numbers now, then it is very easy to galvanise the entire Luhya nation. If that happens, assuming the coalition holds, that will almost cancel out Mt Kenya.
The, it becomes very easy for Rift Valley voters disillusioned with Uhuru and DP William Ruto to cross to NASA.
It also becomes very easy to get a few votes around Mt Kenya region. Some people obsessed with Raila phobia around that region — who are uncomfortable with a Raila presidency — will not vote.
So if there is vote suppression in Mount Kenya and Rift Valley, then the opposition will comfortably win the August 8 general election.
The writer is a political analyst.
Source link-the-star.co.ke