Anxiety in CORD over Musalia Mudavadi, Kalonzo Musyoka ticket

Anxiety in CORD over Musalia Mudavadi, Kalonzo Musyoka ticket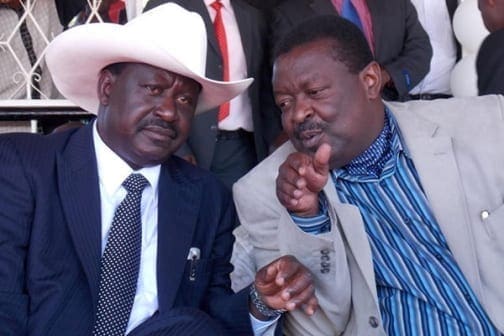 Nairobi: With less than one year to the General Election, Coalition for Reforms and Democracy (CORD) leader Raila Odinga is working on a political matrix to dethrone Jubilee in the first round.
In separate interviews with CORD insiders, The Standard on Saturday has established that the game plan includes backing Amani National Congress (ANC) leader Musalia Mudavadi as the Opposition presidential candidate, with Wiper leader Kalonzo Musyoka as his running mate.
Proponents of this scheme believe a Mudavadi/Kalonzo ticket would deliver decisive victory to CORD in round one and deny Jubilee both the presidency and majority in Parliament.
In May, CORD constituted a team to evaluate possible outcomes of the presidential race with various scenarios where each of the three principals is the presidential candidate. The team has since expanded the scope of candidates to include Mudavadi.
According to a member of the team, a Mudavadi candidacy would lock Western Kenya region for CORD and Kalonzo would bring on board the lower Eastern and significant pockets of Coast region.
The team is led by Machakos Senator Johnstone Muthama (Wiper), his Siaya counterpart James Orengo (ODM) and Tongaren MP Eseli Simiyu (Ford Kenya).
Formidable team
"Raila is keen to see a new government replace Jubilee in the August 2017 elections and he believes that if a different Opposition candidate has better chances than him, then that candidate should be supported," said a member of the team, who sought anonymity because he is not authorised to reveal ongoing discussions.
ODM Chairman and Suba MP John Mbadi confirmed that CORD had indeed opened talks with Mudavadi. He said they were confident of building a formidable team that would send Jubilee home next year.
"Indeed we are talking. But we are not going to unveil our candidate now. We will not do it before December, and when we finally do it, it will be a bang. The ship we are building is huge and will definitely form the next government," said Mbadi.
Muthama said the political formation in the works would deliver big and early victory in the presidential election.
"With the political equations we are putting in place, we are confident of victory in the coming presidential race. The only worry for our supporters is how to safeguard our victory from being taken away from us," said Muthama.
But Prof Peter Kagwanja said the ticket would not worry Jubilee much because Mudavadi and Kalonzo lost in the last elections and their bid would not affect the ruling coalition's votes.
"Both Mudavadi and Kalonzo were on the ballot in 2013, and still Jubilee won the elections. Therefore, they will still likely be trounced because they are not eating into the Jubilee base, neither are they getting new voters from elsewhere. The contest at the moment will be in 2022 and not next year," said Kagwanja.
Mudavadi has repeatedly said he is willing to work with CORD and would not mind being a flagbearer for a coalition that would be formed by the coming together of Opposition parties.
"I am the safe pair of hands I promised Kenyans in 2013. I am certainly the man to watch going forward," Mudavadi said in an exclusive interview with The Standard on Sunday (read full interview in tomorrow's paper).
But Ford Kenya leader Moses Wetang'ula appeared to pour cold water on the proposed Mudavadi ticket, saying CORD has only three possible presidential candidates and any other person out of the coalition cannot just come in and get the presidential ticket.
"In CORD, it is either Raila, Kalonzo or me. The only space Mudavadi has is to join us and support my bid in CORD. He would strengthen my candidature and I welcome him to do so. As for the ticket, how will he get it and he is not a principal in CORD?" said Wetang'ula.
The Bungoma senator said that kind of arrangement should be treated with the contempt it deserves, adding that he would not look back in his bid.
Kanu Secretary General Nick Salat cautiously declined to confirm or deny talks of an alliance that would include the independence party.
"I will neither confirm nor deny at the moment," he said.
Bomet Governor Isaac Ruto who, according to our source at the CORD team, has been approached to reinforce the alliance, dismissed the claims, saying he was keen on building his party and would work with like-minded people in the next General Election.
All the three CORD co-principals have indicated that they will be running for the presidency and already, Kalonzo and Wetang'ula have both launched their bids.
Join CORD
Deputy President William Ruto has repeatedly challenged the CORD team to name their flagbearer who would face President Uhuru Kenyatta and him in the elections.
Kiminini MP Chris Wamalwa said the issue of having Mudavadi as the CORD flagbearer had been canvassed but said the former Deputy Prime minister must first join the coalition.
"The talks would get more serious once he has joined us in CORD. But for us from the Western region, we welcome it. It aligns with our strategy of the Mulembe nation to bring all communities together. Let him join us in CORD and strengthen our bid through Wetang'ula," said Wamalwa.
National Assembly Minority Leader Francis Nyenze said there was need for CORD principals to agree on a flagbearer.
"We are busy working on the flagbearer within CORD. That is the most urgent matter for us now and since there was a Memorandum of Understanding between the co-principals, we will be expecting a 'Kalonzo tosha' endorsement from Raila and Wetang'ula," said Nyenze.
ANC Secretary General Godfrey Osotsi and a close ally of Mudavadi said although they were willing to work with like-minded people in the Opposition, nothing had been firmed up.
"We have party structures and when the time comes for us to engage with CORD we will do so in a structured manner. The talk of Mudavadi being the single presidential candidate for the Opposition is very welcome, but we are not there yet," said Osotsi.
Wundanyi MP and ODM whip Thomas Mwadeghu said a Mudavadi/Kalonzo pair would be a "killer" ticket.
"If Raila agrees to that formation, we will win early in the day," he said.
Anxiety in CORD over Musalia Mudavadi, Kalonzo Musyoka ticket