I declined offer to be Nasa flag bearer, says Isaac Ruto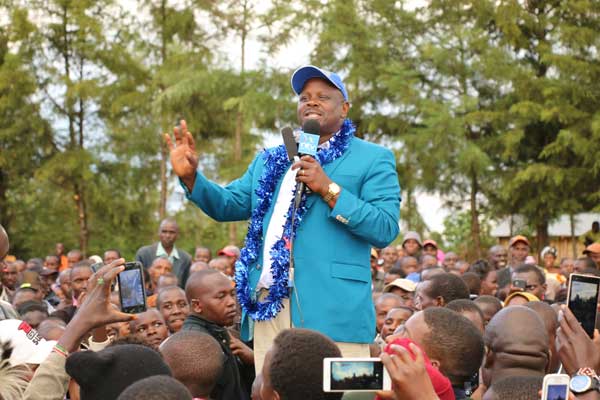 Bomet Governor Isaac Ruto has claimed that he had been picked to be the Nasa presidential flag-bearer but he declined the offer, instead leaving it to ODM leader Raila Odinga.
Mr Ruto made the claims on Sunday at Ngesumin in Bureti Sub-County in Kericho while endorsing aspirants who won various tickets in his Chama Cha Mashinani party primaries.
He said his importance in Rift Valley politics has been felt by other Nasa principals who had had picked him to be the presidential flag-bearer.
He, however, said he turned down the offer because he was not ready.
"I went to negotiate with my fellows in Nairobi. It was a hard bargain, for everyone wanted the top seat. I also wanted it.
"At one point, I won the support of the others who thought that if I was picked, we would be assured of 90 per cent of the Rift Valley votes plus others," Mr Ruto said.
He said he thought it wise to let the eldest in the Nasa team to carry the mantle on condition that the change of power to the next principal would be done after only one term in office.
"They challenged me over my 2013 vow that we would never vote for Raila. But I said that since we reconciled as a country over the (2007/2008) bloodshed in 2013, it is easier to reconcile with Raila and [give him] our support," said the governor.
"Raila is not a bad man. Let us support him as he will only take us to the Promised Land, where there is no poverty and economic challenges. We now call him Joshua arap Mibei," Governor Ruto added.
He also said that he and Deputy President William Ruto are both political brokers in the Rift Valley.
Mr Ruto said the DP should not condemn him for brokering votes for the National Super Alliance presidential flag-bearer, since he (the DP) is also doing the same for President Uhuru Kenyatta.
Governor Ruto said that just as the DP is seeking to retain his seat, he is also fighting for the position of deputy prime minister, adding that "deputies are the same".
"William Ruto and I are both brokers. He is also seeking for votes for Uhuru just like I am (doing) for Arap Mibei (Raila Odinga).
"He would be the Deputy President and I a deputy prime minister. Are deputies not the same? Is there a better deputy than another?" asked the governor.
"But I can say I am a better broker than him because I am doing it for the common person."
The governor accused the Jubilee administration of presiding over an unbearable economy that has seen the cost of basic commodities skyrocket.
Mr Ruto also challenged the Jubilee government to come clean on the source of maize that is said to have been imported to solve an impending food crisis, claiming that part of it could be the 60 metric tonnes harvested from the Galana Kulalu project.
The Nasa co-principal claimed that the government could have released maize which was harvested from the irrigation scheme and hoodwinked Kenyans that the same had been imported.
"Where did the government get thousands bags of maize so quickly? We suspect that that maize was harvested from the failed irrigation scheme and stored for that purpose," he said.
He said he had decided to join hands with opposition leaders Raila Odinga, Kalonzo Musyoka and Musalia Mudavadi after they pledged to set aside 45 per cent of the annual budget for devolution, noting that enhanced resources would boost development in the counties.