Wiper rift shakes Nasa: Choose between Muthama and I, Kalonzo tells Raila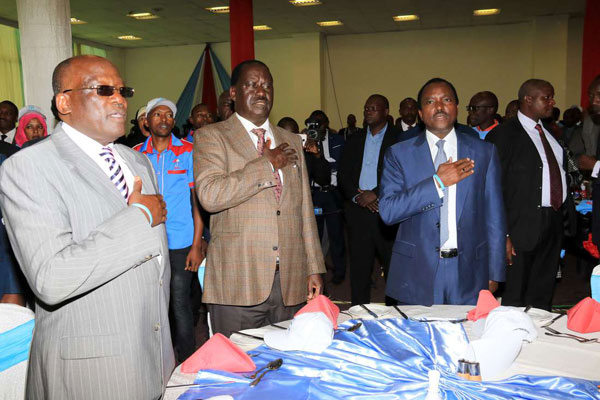 A fierce battle for influence and positioning in anticipation of a Nasa government is the cause of a rift within Wiper Democratic Movement that has sucked in presidential hopeful Raila Odinga.
Mr Odinga's running mate, Wiper leader Kalonzo Musyoka, has told him to choose between him and Machakos Senator Johnson Muthama in an escalation of hostilities.
"There will come a time when I will ask Raila to choose whether to work with Muthama or Kalonzo," said Mr Musyoka after attending a church service in Mlolongo on Sunday.
This was just a day after he faced off with Mr Muthama at the burial of the mother of a former party stalwart, Kitui Senator David Musila.
Mr Musyoka seems worried that he could become a lameduck Deputy President should Nasa win and the MPs, senators, governors and MCAs in Ukambani are not his people, losing regional influence.
Indeed, in 2013, Wiper lost four of the eight National Assembly seats in Machakos County in areas where Mr Muthama was said to have influenced nominations.
Mr Musyoka seems keen to avoid a similar situation this year.
The Wiper leader now has to fight off a three-pronged assault—from Machakos Governor and Maendeleo Chap Chap leader Alfred Mutua, the Jubilee Party hierarchy and now former allies Muthama and Musila.
Mr Musila resigned as Wiper national chairman and became an independent candidate for the Kitui governorship after he lost in the party primaries, citing rigging.
But it is with Mr Muthama that Mr Musyoka has the most beef.
His differences with the self-styled chief financier of Wiper are not new.
In 2013, Mr Muthama played a key role in forcing an unwilling Musyoka into an agreement with Orange Democratic Movement (ODM) leader Odinga to be his running mate in the now-defunct Cord coalition.
This was after Mr Musyoka was elbowed out of the alliance with Jubilee candidates Uhuru Kenyatta and William Ruto that eventually won the presidency.
Despite the then Vice-President's reluctance, Mr Muthama was in a Wiper team that included then Makueni Senator Mutula Kilonzo (deceased) and Mr Musila which negotiated with ODM's Dalmas Otieno, James Orengo, Jakoyo Midiwo and Prof Anyang Nyong'o to reach the deal.
Fast-forward to 2017 and Mr Muthama is still at the centre of it all with Mr Musyoka feeling that the gemstone dealer, once again, supported Mr Odinga in the lobbying for the Nasa candidate at the Wiper chief's expense.
Mr Musyoka faces more than just the Muthama rebellion, however. His party has gone though three upheavals since 2013.
First was Dr Mutua, who moved out and formed MCC.
That was followed by the rebellion by MPs Joe Mutambu (Mwingi Central),  John Munuve (Mwingi North), Richard Makenga (Kaiti), Regina Ndambuki (Kilome) and Kisoi Munyao (Mbooni), who defected to Jubilee.
He accuses Jubilee of influencing these defections to undermine him and has vowed to teach the rebels a lesson come August 8.
But it is his latest fallout with party founders Musila and Muthama that must be giving him the most headache.
Problems with the Ukambani political heavyweights began during the jostling for the Nasa ticket.
Senators Musila, Muthama and their Makueni peer Mutula Kilonzo Junior seemed to favour a candidate with a good chance of victory, not necessarily their party boss.
But Mr Musyoka was determined to clinch the ticket and, pushed by supporters led by National Assembly Minority Leader Francis Nyenze, threatened to leave Nasa and go it alone.
Worried that he might call his bluff, the three senators warned their boss he would be on a highway to political oblivion because he would face a major rebellion in Ukambani.
It is at this point that Mr Musyoka seemed to start doubting the loyalty of these three pillars of his party and moved to shore up his support in the region.
He brought into the Wiper fold leaders such as former Cabinet Secretary Charity Ngilu, the Narc leader; Makueni Governor Kivutha Kibwana of Muungano; and former MPs Wavinya Ndeti (Chama Cha Uzalendo) and Mutua Katuku (Peoples Trust Party).
The challenge now was that Mr Muthama and Mr Musila had major interests in the three Ukambani counties' governor positions.
Mr Musila wanted to dethrone Mr Musyoka's favourite in Kitui, Governor Julius Malombe, while Mr Muthama supported Deputy Governor Bernard Kiala in Machakos and real estate mogul David Masika in Makueni.
It is their loss to Kalonzo's allies—Mr Musila to Dr Malombe, Mr Kiala to Ms Ndeti and Prof Kibwana was handed a direct ticket—that triggered their acrimonious exit.
As the countdown to August 8 gathers speed, the turmoil in Wiper is a major headache for Nasa.
Mr Musyoka must restore harmony in his political house and ward off stiff challenge from a Jubilee emboldened by the Wiper disunity if he is to deliver the Kamba vote to Nasa.
According to Ms Jane Mwende Kibati, who missed the Kitui Woman Rep ticket and turned independent, there is a real prospect of Wiper losing parliamentary and governor seats in Ukambani and hence affect the overall performance of Nasa.
"We are staring at the possibility of Ukambani moving from being a Nasa stronghold to a battleground with Jubilee Party," said Ms Kibati.
This is an outcome Mr Musyoka is determined to avoid at any cost and there have been behind-the-scenes moves to end the feud, especially with Mr Muthama.
Sources say Mr Musyoka has appealed to Mr Odinga to intervene.
"He (Odinga) spoke to Mr Muthama, who promised he will go slow on the matter," said the source.
However, it appears that Mr Muthama is in no mood to calm down, hence his combative talk on Saturday. He pressed his pet topic, accusing Wiper of presiding over shambolic primaries — including in Kitui, and when Mr Musyoka attempted to defend the party, some mourners heckled him.
The following day, Mr Musyoka's gloves came off as he told Mr Muthama to toe the party line or forget about campaigning for Mr Odinga. Speaking at AIC Kasina, Mr Musyoka said he did not impose any candidate. He said the senator could not campaign for Mr Odinga without campaigning for Wiper.
"I want Senator Muthama to accept to be under the authority of the party now because he cannot preach a different message from what the party is preaching," said Mr Musyoka.
He has also tried to reach out to other nomination losers in a bid to consolidate Wiper support in the region. On Friday, when the party leadership held a rally in Machakos to drum up support for Ms Ndeti, Mr Kilonzo Junior said he had been sent by Mr Musyoka to talk to Mr Kiala to accept the position of County Assembly Speaker.
The senator claimed success but Mr Kiala could not be reached to confirm or deny it by press time.
Against this dark background, and with the Nasa campaigns in Machakos scheduled for early next month, it will be interesting to see how the two leaders behave in the presence of Mr Odinga.
Source link-nation.co.ke