Outa's car shot at as Kisumu burial turns chaotic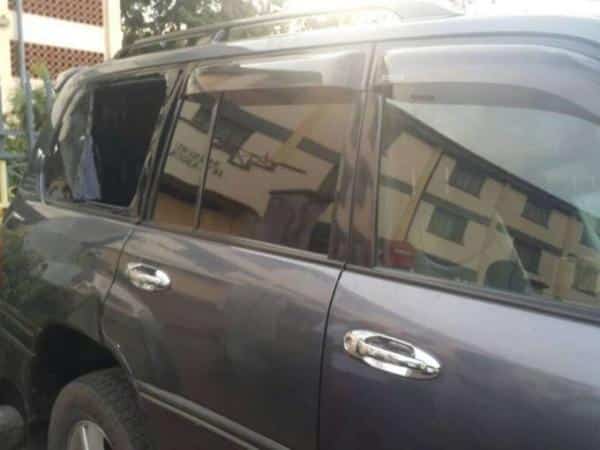 The car to Nyando MP Fred Outa was on Saturday shot at after the burial of former MP James Miruka Owuor turned chaotic.
The incident occurred after a group of youth believed to be supporters of a Kisumu MCA stormed the service accusing Outa and senator Anyang Nyong'o to be behing the bungled ODM nominations.
The rowdy youth who charged towards the main dais where Outa was set to address forced hundreds of mourners who had attended the burial to flee for their lives.
The melee started when Outa, who seeks to replace Senator Anyang Nyong'o was invited by East Wawidhi MCA Moses Ochele to address the mourners.
Ochele had previously charged the crowd accusing Outa and Nyong'o of bungled ODM nominations.
The rowdy youth booed and heckled Outa forcing his security to whisky him away.
Outa and his bodyguards shot in the air to disperse the crowd which was surging towards him before police lobbied teargas amid efforts to disperse them.
The rowdy youths threw seats and water bottles at the mourners forcing them to scamper for safety.
Outa's car was shot at during the incident.
Outa after recording a statement with police told journalists the intention of his attackers who were hired by the independent candidates from Muhoroni Subcounty was to kill him.
He accused police of doing little do protect him from the armed attackers. "We want police to protect all aspirants equally without favouring others, " he said.
The rear widow of his car was shot with the bullet lodged on the dashboard. One of the right handside window was also shuttered.
Outa has recorded statements at Kisumu Central police station.
Supporters of Kisumu Governor Jack Ranguma accused Outa and Senator Nyong'o over the disputed nominations.
At some point they harassed, heckled and forced the bereaved families to cut short their speeches to allow Ranguma to address them.
The chaos forced the bereaved to hurriedly leave the main dais to bury their loved one, Miruka.
Earlier, independent candidates in Kisumu county differed with ODM nominees over the six piece vote campaign.
Masogo/Nyangoma MCA Samuel Ong'ow opposed the six piece vote campaign saying residents should be allowed to elect leaders of their choice.
He said electorates should not be forced to vote for leaders imposed on them.
Ong'ow, who will defend his seat as independent candidate after losing the much disputed ODM nominations, said they will reject leaders who rigged them out of nominations.
He however reiterated the support for Nasa presidential flagbearer Raila Odinga but said other seats will be decided on by the electorates.
"The only vote we guarantee is that of Raila and those who genuinely won ODM nominations. We cannot be forced by a leader who is fond of sleeping as the governor candidate, " Ong'ow said.
He added:"We will not vote six piece as we don't want leaders who rigged in the way into nominations exercise."
Ahero MCA Maurice Aloo echoed the sentiments by Ong'ow urging residents to vote only vote for independent candidates.
He said that ODM nominations were shambolic with losers and cronies of few party leaders given certificates.
Ochele accused Senator Anyang Nyong'o and Nyando MP Fred Outa of robbing them victory.
"Outa and Nyong'o collected money from aspirants whom they rewarded ODM certificates, " Ochele said.
Nyando ODM MP nominee Jared Okello accused cartels of disturbing genuinely winners from being awarded certificates.
Citizen's Convention Party leader Grace Akumu and Nasa presidential flagbearer Raila Odinga brother Omondi was Odinga was present.
Kisumu Central ODM nominee Fred Ouda and Nyakach MP Aduma Owuor who were at the funeral left in a hurry.
The leaders had eulogized Owuor as a prominent and self dedicated leader who mentored many people in the county both as a lawyer and MP.
Source link-the-star.co.ke
Outa's car shot at as Kisumu burial turns chaotic