What security men assigned to guard Kenya VIPs go through
What security men assigned to guard Kenya VIPs go through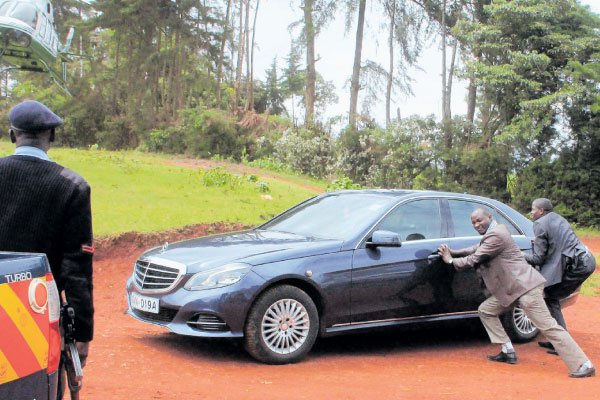 In the famous poem "Building the Nation" by Ugandan poet Henry Barlow, a Very Important Person's (VIP's) driver and bodyguard narrate in a few stanzas, a typical day in their life.
Today I did my share
In building the nation
The poem begins.
A recent photograph of the male bodyguard of Cabinet Secretary, Ministry of Public Service, Youth and Gender Affairs Sicily Kariuki carrying her handbag stirred public debate. Soon after, another picture emerged, that of the bodyguard of Cabinet Secretary for Defence Raychelle Omamo carrying her handbag as they walked.
The two pictures spurred questions, especially on social media, leaving many wondering: What exactly is the role of a bodyguard?
Is a bodyguard supposed to "assist" the client in running personal errands and worse, carry her handbag?
The Nation spoke to several VIP bodyguards who opened up only on condition of anonymity and uncovered what many have suspected for long; the life of a bodyguard may be highly coveted among the police for its juicy perks such as special allowances but it is not all glamour and prestige.
"That is normal," says one bodyguard, speaking of being subjected to carrying handbags. "She could be in a meeting and she whispers to you asking you to go and pick her humongous handbag from the vehicle. You will have to carry that bag in front of other men".
VIP bodyguards are usually police officers assigned to Members of Parliament, Cabinet Secretaries, Senators, Governors and other senior government officials.
Ideally, bodyguards are supposed to report at work by 8am. Their day should end at 5pm. Their job is simple: Protect the VIP, ensure they are secure at all times and when push comes to shove, pay the ultimate price by taking a bullet for your VIP.
The eight-to-five job situation is hardly the case. Rarely will you find a bodyguard let off by their VIP at 5pm. Often, that time finds the bodyguard seated in a traffic jam, probably ferrying the boss to an evening meeting at an exclusive members' club.
Barlow's poem puts this in perspective quite aptly;
"I drove a Permanent Secretary
To an important, urgent function
In fact, to a luncheon at the Vic"
The VIPs often overstay at these clubs holding meetings until late into the night, perhaps, until after midnight, all the while as the bodyguards wait patiently in the cars, with their stomachs growling in hunger.
"They misuse us a lot," says another bodyguard who has been on the job for six years. "In the evening, we come from Parliament and drive them to a popular joint along Lenana Road (Nairobi). They will drink whisky until 2am and come to the car drunk. As you drive them home, they begin to quarrel asking 'why are you driving so fast?'"
Granted, the life of a VIP could be potentially stressful. Campaigns to run, elections to win, hand-outs to dish, policies to write, deals to cut, motions to pass in parliament, just to name a few. These activities could take its toll on a VIP, who sometimes need to decompress and exhale. They too are human, after all.
"We become their punching bags. You see all that stress they take in, they take it out on us. Some become very abusive," says another bodyguard.
Gilgil MP-elect Martha Wangari who served in Eleventh Parliament as a Nominated Senator termed the practice as "ethically wrong and disgusting".
"It's a no-go zone for me. It is even weird for a man to carry a handbag. If a VIP wants someone to carry a handbag they should have a female personal assistant.
It should not happen; bodyguards are for protecting their charges not carrying handbags," she said.
COMPLAINT
A common complaint among the bodyguards of VIPs is that some of their bosses are verbally and physically abusive. A former bodyguard of a powerful Jubilee MP from North Eastern narrates how one evening, after a heated television debate with a governor from the opposition, the MP stormed into the back-left of his cushy four-wheel drive and went quiet.
The bodyguard, noticing the boss was in a foul mood, quietly drove to Parliament buildings and stopped the vehicle at the parking lot, awaiting further instructions.
The MP went into a violent rage, hitting the bodyguard on the thigh asking him "Who told you I wanted to go to Parliament?"
Some VIPs are known to insult their bodyguards for minor mishaps and mistakes.
"It hurt when she used to insult me. Sometimes she would lash out at me and call me 'stupid', which hurt my ego, particularly when I had to go home to my wife and children," says the bodyguard.
Police spokesman Charles Owino sees nothing wrong with bodyguards carrying handbags.
DISCRIMINATION
"Let us not perpetuate discrimination against women. If the same police officers carry briefcases for men why then can't they carry handbags for women? If you can guard someone's body what is wrong carrying a bag?"  he told Sunday Nation.
He said unless Kenyans want women VIPs to be guarded by female police officers then the trend of men carrying handbags for their bosses will not stop.
"It is not anywhere in police regulation on what you do with your boss. If an individual police officer is of the opinion he can carry a handbag for one reason or another that is his own choice. There is nothing wrong," he said.
Barlow's poem continues;
"The menu reflected its importance
Cold bell beer with small talk,
Then fried chicken with niceties
Wine to fill the hollowness of the laughs
Ice-cream to cover the stereotype jokes
Coffee to keep the PS awake on the return journey"
Ideally, bodyguards are supposed to be well-fed in order to protect their VIPs. As they wait for their bosses to network and mingle in their high-tea functions, bodyguards are often left to fend for themselves. Since their paltry salaries cannot afford them the luxuries of three-course meals, bodyguards end up eating what they can scrap from kiosks around the five-star hotels.
"The life of a bodyguard is characterised by hunger. The bosses go into a meeting and forget you. We survive on milk and bread as we wait for them to return, smelling of meat and alcohol," says another bodyguard who has been attached to a female MP.
A former bodyguard of a senator who has since been elected governor tells how one day, he made the gross mistake of eating on the then MP's account at a five-star hotel.
"He was livid. He asked me, 'Who told you to eat on my account?' Some of these VIPs are very mean," he says.
"Did you have any lunch friend?
I replied looking straight ahead
And secretly smiling at his belated concern
That I had not, but was slimming!"
So goes an excerpt of Barlow's poem, where the VIP suddenly recalls his bodyguard was also supposed to have lunch.
Bodyguards of VIPs have often complained of being reduced to messengers and made to do menial tasks for their bosses on top of running errands. From dropping the VIPs children to school after missing the school bus, to taking the VIPs house-help to the posho mill to have maize sifted, to going to book rooms for the bosses' secret rendezvous.
In 2014, a former bodyguard of Prof Jane Onsongo, a commissioner at the then Ethics and Anti-Corruption Commission, unsuccessfully filed a petition in Parliament. Mr Joshua Momanyi, an Administration Police officer, alleged he had been removed from the VIP protection and transferred to various stations, including Turkana, after he questioned some of the jobs and irregular dealings he was asked to do.
These included shopping, supervising the construction of a house in Karen and plumbing. The complaints were never addressed but Prof Onsongo has since left EACC after commissioners were forced out in 2015.
Bodyguards and drivers also tell of some lows they are forced to sink to in a bid to please their bosses.
Those attached to well-known Casanovas often have it very rough because their bosses will ask them to approach their would-be clandestine lovers and "tune them" on behalf of Mheshimiwa and book a room. According to one account, the bodyguard has to take pictures of the room to send the boss's for approval before handing over the woman — sometimes after confiscating her handbag and phone, in case she has mischievous ideas of gathering "evidence".
However, some of the demeaning tasks come with some 'perks' for the bodyguards, some of whom demand extra pay for their silence.
"I used to work for an MP who was a well-known sex predator," says one. "I was required to approach the girl he had identified on his behalf.
If you do that as a bodyguard, you get whatever you need, because you have some insurance," Often, they will drop the boss at home at around midnight, find their way home to catch a few winks before reporting early in the morning.
The worst time to be a VIP bodyguard is during campaigns. Political enemies and rivals are spoiling for a row and their unruly supporters could attack the client at any time.
Although a VIP's security is often beefed up during such high-octane politics, bodyguards are required to be twice as vigilant and careful to protect their bosses. Some die while protecting their VIPs, such as the bodyguard of Mbita MP-elect Millie Odhiambo.
Mr Kennedy Okore was killed in a violent encounter between the supporters of the rival politicians.
The bodyguard died after being run over by a vehicle after a fracas ensued at Urianda Primary School in Lambwe Ward, Mbita constituency.
However, the life of a bodyguard is not all gloom and doom. There are some happy moments, particularly if you are attached to a humane VIP.
Some VIPs treat their bodyguards with respect and provide everything, over and above what they are entitled to.
Some VIPs have been known to incorporate their bodyguards into their families. Others ask about the bodyguard's children and give them "something small" for their families. Bodyguards attached to the President and Deputy President — mostly from the elite Recce squad — are said to be the crème in the bodyguards' chain of command. They not only enjoy heavier allowances, but also live in better houses and don't share the horror stories of being misused and disrespected.
But perhaps one of the most significant aspects of being a VIP's bodyguard is being in the circles of power, and like the proverbial fly on the wall, having a front row seat to political intrigues and manoeuvres.
Eavesdropping on phone calls and conversations, being the unofficial "therapist" whom the VIPs pour out their frustrations and share experiences, meeting the VIPs families and relatives (and clandestine lovers), it is no wonder that bodyguards are sworn to oaths of secrecy. Because, like walls, if bodyguards could talk, then nations could roar and kingdoms could crumble.
So two nation builders
Arrived home this evening
With terrible stomach pains
The result of building the nation
Different ways.
Christopher Henry Muwanga Barlow, (2000)
Source link-nation.co.ke
What security men assigned to guard Kenya VIPs go through