45 Firms to Help Kenyans Seek Employment Abroad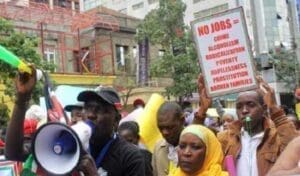 Protesters on Tom Mboya street in Nairobi. They demanded lifting of a ban on Kenyan citizens from seeking work in the Middle East after a string of cases detailing abuse.
Forty five private companies have been accredited and authorised to place Kenyans in jobs abroad, in a move aimed at ridding the market of bogus hiring agencies.
National Employment Authority acting director-general Rael Rotich published the list in the government publication MyGov on Tuesday.
Al-Shira Travel Tourism, Overseas Gulf, Al-Jamana Ltd and Pemawa Ltd are some of the companies whose contracts extend to January 2019.
Others are Talent Quest Africa and FSI Worldwide Kenya Ltd while contracts of the rest have the period of accreditation spread between August and December 2018.
"The public is notified that the list will be updated regularly and are therefore advised to check the status of any recruitment agency from our offices," the official said.
Bogus agencies have been exploiting employment opportunities especially in the Middle East countries, luring desperate Kenyans with promises of well-paying jobs, only to offer them low quality jobs.
Most of the victims have been dumped in Kuwait, Lebanon, Saudi Arabia and Jordan where they mostly serve as househelps.
In 2015, Kenya revoked the licences of 930 agencies and banned its citizens from seeking work in the Middle East after a string of cases detailing abuse, especially of domestic workers.
The ban was, however, lifted in March 2016 for people with professional qualification, even as prohibition on export of menial workers to Middle East was retained, pending the drafting of a legal framework.
"Any person or company found to be engaging in the recruitment business without the requisite registration will be prosecuted as provided for under the Labour Institutions Act 2007 Section 55," Ms Rotich said. The agencies are also required to furnish the government with returns of people hired and their personal details, she added.
In an earlier interview with the Nation, Labour Cabinet Secretary Phyllis Kandie said the government was also changing tack in recruiting from the informal sector.
Through the Kenya Labour Market Information System (KLMIS), a portal has been developed, linking jobseekers to existing employment.
The KLMIS platform was started last July but is expected to be fully launched in March next year, according to Ms Kandie.
It specifically links jobseekers to existing employment and internship opportunities within their counties and countrywide.
Many developing countries, Kenya included, have shortage of skilled workers, even as the number of the unemployed remains high.  Source: Pocket News
-eagleheadline.com