President Kenyatta meets UN Secretary General, discuss regional peace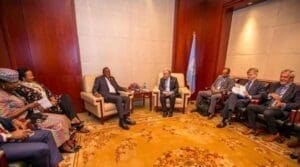 ADDIS ABABA, Ethiopia, Jan 27 – President Uhuru Kenyatta Saturday met UN Secretary-General António Guterres
and discussed regional peace.
Meeting in Addis Ababa ahead of the 30th Ordinary Session of the African Union (AU) Assembly, President Kenyatta and Guterres devoted most of their discussion to the peace and security situation in South Sudan.
Guterres acknowledged the South Sudan peace initiatives spearheaded by the Inter-Governmental Authority on Development (IGAD) and encouraged member states including Kenya not to give up their efforts.
The UN Secretary-General also called on all the parties involved in the conflict to work together in the search for a lasting solution.
President Kenyatta affirmed Kenya's commitment to helping move forward the South Sudan peace process.
The President assured Mr Guterres that the African Union Summit provides an opportunity for IGAD leaders to meet and discussed ways of rejuvenating the peace process.
The meeting was attended by Cabinet Secretary Amina Mohamed and the Kenyan Ambassador to Ethiopia Catherine Mwangi among others.