Cabinet line-up ends guess on Nasa inclusion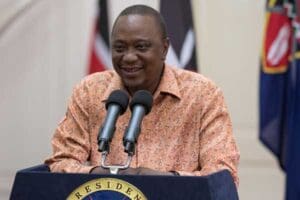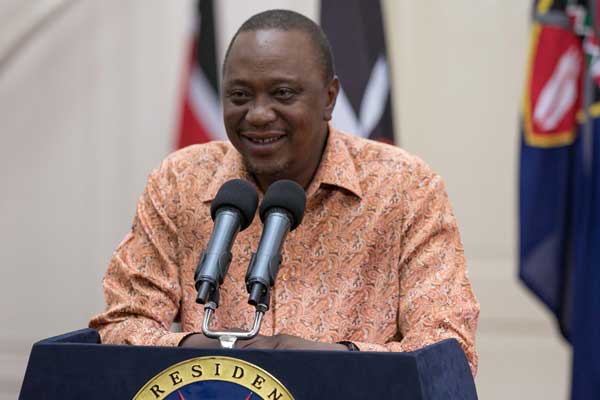 President Uhuru Kenyatta's completion of his Cabinet line-up on Friday after a prolonged delay came just four days before the National Super Alliance was due to conduct its own presidential 'oath' for Opposition chiefs Raila Odinga and Kalonzo Musyoka.
A complete Jubilee Party government will therefore be in place — albeit pending vetting by Parliament — when the Opposition installs its rebel line-up on Tuesday.
The door will thus have been closed for possible appointment of Opposition leaders into the Cabinet.
There has long been speculation that the delay in completing the Cabinet since President Kenyatta and Deputy President William Ruto were sworn into office on November 28 was intended to leave the door open for such an eventuality.
Mr Kenyatta and Mr Ruto have consistently dismissed proposals that incorporating Mr Odinga, Mr Musyoka and other Nasa leaders into a national unity government would solve the political crisis arising out of the Opposition's rejection of the presidential elections outcome.
The Opposition chiefs have in turn rejected the notion that the continued agitation for a national dialogue is aimed at forcing their inclusion into a government of national unity, much like the deal between then President Mwai Kibaki and Mr Odinga that stilled the 2007-2008 post-election violence.
However, a group of western envoys — led by American ambassador Robert Godec — have been engaging in rounds of shuttle diplomacy trying to pressure President Kenyatta and Mr Odinga to the negotiation table.
One of the items on the agenda has been the formation of a national unity government to address the immediate political crisis, followed by a national conference to address the long-term issues that make the electoral process in Kenya such a minefield.
There is obviously no room for a unity government now with all positions filled, and taking into consideration that the Constitution now sets a limit on the number of Cabinet appointments, unlike in 2008 when President Kibaki could name a bloated 44-strong Cabinet with Mr Odinga as Prime Minister.
Another factor that may have delayed unveiling of the full Cabinet was clearly the pushing and shoving between President Kenyatta's TNA and Deputy President Ruto's URP wings of the Jubilee Party.
Much was made of Mr Ruto's notable absence when President Kenyatta made his announcement of the first five Cabinet appointments on January 5, unlike the show put on with the first Jubilee Cabinet in 2013.  Mr Ruto heatedly denied reports of a rift, to the extent of his communications aide, Mr David Mugonyi, threatening journalists who reported so.
He also brought out a new narrative that the appointment of Cabinet Secretaries was President Kenyatta's sole prerogative.
This would indicate a different situation from 2013 when the Jubilee administration was essentially a power-sharing coalition between TNA and URP, with each principal bringing his own slate.
 Jubilee is now a unified party, but it would be stretching credulity to suggest that President Kenyatta now has the leeway to rule without reference to Mr Ruto, or that the power-sharing and presidential succession pact is now obsolete.
That Mr Ruto was again conspicuously absent from State House on Friday will further raise eyebrows.
The Deputy President might be satisfied that there was no notable inclusion of Kanu chairman Gideon Moi's nominees in the new Cabinet.
The rapport between President Kenyatta and his old friend, schoolmate and son of his political mentor, retired President Daniel arap Moi, has been a bone of contention between the Jubilee principals.
Mr Ruto has been suspicious that the Kenyatta political machinery was preparing to dump him and instead shift its backing to Gideon Moi as its bridge to the Kalenjin community.
The Baringo Senator and heir of the Moi political fiefdom has declared his presidential ambitions for 2022, which would bring him into direct competition with Mr Ruto for both national leadership and Rift Valley political supremacy.
Any Cabinet where Mr Moi was seen to have influence would thus be seen as a direct challenge to Mr Ruto and would almost certainly impact on the fabled camaraderie between the President and his deputy.
For now, Mr Ruto might have been placated, and will probably want to focus on putting in place the machinery and finances for his 2022 presidential bid.
The President's allies, however, would prefer priorities directed towards building a legacy in relation to the Jubilee development programme and the aborted war against corruption.
Jubilee discord and the Nasa threat aside, the other notable political move in the new Cabinet line-up was the 'backdoor' return of assistant ministers to cater for the large number of politicians clamouring for payback.
Under the new administration, the position has been renamed Chief Administration Secretary.
The office of assistant minister was abolished with the 2010 Constitution but President Kenyatta has brought it back with creation of the new post in each ministry.
Principal Secretaries are already the chief administrators and account holders, which could create some conflict and overlap, but it appears that the new officers will have no defined functions other than assisting the Cabinet Secretaries under whom they will work.