Couples who made magazine covers but split not long after
To share or not to share love stories? Couples who made magazine covers but split not long after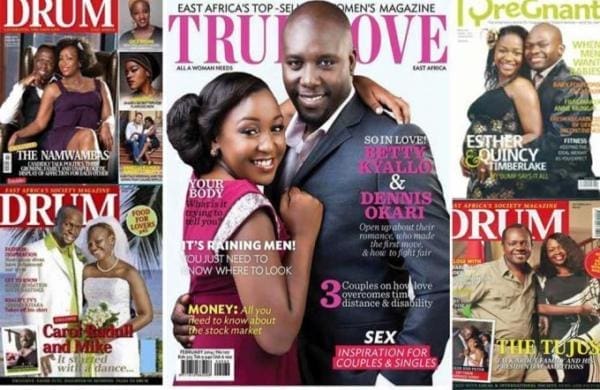 To share or not to share love stories? When a man and woman marry, they hope to live together happily ever after and commit to hold on for better or for worse. That is always the dream of couples, but then to some, divorce is inevitable.
Break ups are tough, for those involved and for us too. When our friends split up, it hits us hard. Some relationships are so sweet and successful that their breakups leaves us shocked and with tears, questioning if love truly exists.
Gracing magazine covers with beautiful photo-shoots and being featured flaunting their romances, some of these relationships make us envious and wanting to know how to also create small paradises of our own. But not so fast. Not all of them stand the test of time. Could it be a jinx of magazine covers?
Here are some celebrated couples who featured for local magazines but ended up apart not long after:
The Tujus
Featured by Drum Magazine in 2011, The Tujus- Hon Raphael Tuju and Ruth Akinyi- had the honour to share with the world their beautiful privileged marriage.
Having been married for 27 years, there's was not another casual story; the couple had three children, lived in a Sh20 million expansive home build on 10 acres in Karen, and an extravagant lifestyle dotted with dozens of vacation trips abroad.
Fast forward to present, Ruth sells food at a humble eatery along Mombasa Road after an acrimonious separation from her wealthy husband.
In divorce documents filed in court by Tuju, he says "Sometime in the year 2011 I learnt that my wife was adulterous and (had) become very abusive and disrespectful to an extent of playing her adulterous life even at the knowledge of my children and workers."
 Carol Radull and Mike
The lavish private wedding at a beach resort in Diani was a dream wedding for many. Carol Radull and Mike Njiru tied the knot in a star-studded wedding on an exclusive beach resort with perfect scenery in 2009.
The duo exchanged their vows with the blue ocean as their backdrop in an event emceed by veteran Radio host Maina Kageni. It was not long until they got featured on Drum Magazine!
In what started as a rumour, the couple has since called it quits with Radull publicly hinting that she was moving on.
A source close to couple revealed that the two had been having issues with their marriage and that Radull had even dropped the Njiru name from all her applications in the lead up to their split in 2017.
Betty Kyallo and Dennis Okari
In October 2015, TV sweethearts Betty Kyalo and Dennis Okari tied the knot at a highly publicized wedding dotted with celebrities at the Marulla Manor in Karen before flying out to Dubai, Mauritius and Seychelles for their honeymoon.
Dennis could not hold himself together as he shed tear of love and even extended into sobs.
It only took six months and rumours about their break up started doing rounds in the media.
The two also kept off social media where they were from time to time sharing love notes. News later emerged that Betty had moved out and the two lived in different locations in Nairobi.
The Namwambas
Former Budalangi MP and current Chief Administrative Secretary (CAS) Ministry of Foreign Affairs, Ababu Namwamba was a while back arguably the most romantic legislator. Ababu and his wife Prisca Namwamba set couple goals for year with the media and blogoshere flooded with their stories and photos vacationing and flaunting their sweet love. The couple indeed proved that happy marriages exist.
Ababu Namwamba has since separated from his wife after she accused him of infidelity and cruelty. Prisca decided to call it quits after she discovered that the CAS had been cohabiting with her niece.
Esther Arunga and Quincy
For a while, Esther Arunga was the darling of Kenya media, oozing beauty and intelligence as she anchored news on KTN TV.
In 2010, Esther Arunga publicly announced that she had officially married Quincy Timberlake after a civil ceremony and even changed her name to Esther Timberlake.
Though their alleged marriage was marred with drama including her announcing lawsuits against her parents for interfering with her marriage; Esther left Kenya with her husband to settle in Australia.
The couple lost their eldest son in 2014 and Arunga testified that the child died after the father attempted healing him by "pressing down on his stomach and throwing him against the wall."
Couples who made magazine covers but split not long after